Putin arrives in Kazakhstan May 9, and is scheduled to attend a summit with Kazakh President Nursultan Nazarbaev in Turkmenistan from May 10-12 before returning to Kazakhstan.
Putin has not selected those two countries by chance. They are the richest in natural resources among the Central Asian republics, and they are both exposed to increasing influence from the West and China.
Senior regional analyst Yuri Fedorov, of the London-based think tank Chatham House, notes that Turkmenistan has a new president, Gurbanguly Berdymukhammedov, who took over following the December death of President Saparmurat Niyazov.
"The change of leadership in Turkmenistan poses a very serious question about its future foreign policy orientation."
"One of the reasons [Putin] is going to Turkmenistan is because the change of leadership in that country poses a very serious question about the future foreign policy orientation of Turkmenistan -- and what is most important, about future exports of [Turkmen] gas," Fedorov said.
Russia has long had a near monopoly on the consumption of Turkmen natural gas, and Fedorov says a more open style of leadership by Berdymukhammedov could threaten this secure position. According to Fedorov, the main question for the Kremlin is "whether the bulk of this gas will go to Russia, as it does now, or whether Turkmenistan will find some other export routes, such as the proposed [U.S.-supported] trans-Caspian gas pipeline."
A possible indication of change in the Turkmen energy sector is that Berdymukhammedov met executives of the U.S.-based Chevron oil corporation last week and invited them to participate in oil extraction efforts beneath the Caspian Sea. This would make Chevron the sole U.S. company operating in Turkmenistan's undersea Caspian fields, and only the third foreign company overall.
A regional leader
Regarding Kazakhstan, analyst Fedorov sees that country as gaining in regional status. "The Kazakhstanis' role in Central Asia is growing, and Kazakhstan is turning into the most important country of the region," he said.
Kazakhstan's veteran president, Nursultan Nazarbaev, is running what by Central Asian standards can be described as an outward-looking foreign policy, courting investment from overseas. The United States is the biggest source of foreign direct investment, followed by Britain and Japan.
And Washington has made it clear that it wants closer ties with Astana. Already last year, U.S. Deputy Assistant Secretary of State Evan Feigenbaum said the United States and Kazakhstan "enjoy" a "vigorous strategic partnership."
Another sign of Kazakhstan's willingness to play a bigger role on the international scene is its bid to hold the chairmanship of the Organization for Security and Cooperation in Europe (OSCE) in 2009. In order to secure that position, the Kazakh government claims it is introducing a range of democratic reforms.
Putin is obviously reluctant to see Kazakhstan move into an orbit where Moscow has greatly reduced influence, and is taking this occasion to strengthen bilateral ties.
Paradoxically, although Russia has vast resources of both natural gas and oil, it may be facing domestic shortages -- at least of gas -- in the next decade because so much of its own resources are in remote areas and need heavy investment to be productive. Central Asia is, therefore, a vital source of energy for Russia.

Russia And Global Energy Security
Russia And Global Energy Security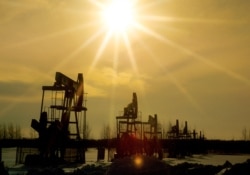 An oil field in Russia's Republic of Bashkortostan (TASS file photo)


ENERGY SECURITY is increasingly moving to the top of the EU's agenda in its dealings the outside world. A recent report identifies the European Union's main energy objectives as not just securing gas and oil deliveries from Russia, but also ensuring that it has reliable alternative sources, including in Central Asia. Nonetheless, EU officials say relations with Russia take center-stage in their thinking....(more)
RELATED ARTICLES
EU Maintains Codependent Energy Relationship With Russia
Turkmenistan: The Achilles' Heel Of European Energy Security
U.S. Official Urges Reforms In Energy-Producing Countries
ARCHIVE
A
complete archive
of RFE/RL's coverage of energy issues in the Caspian Sea region and Russia.