Spanish Foreign Minister Miguel Angel Moratinos also said the OSCE is ready to provide "increased support" in the political, economic, educational, and environmental-security fields -- including addressing land degradation.
Moratinos spoke in Ashgabat, where he was meeting with top Turkmen officials, including President Gurbanguly Berdymukhammedov.
Moratinos is scheduled to continue his tour of the five Central Asian countries with a stop in Uzbekistan today.
In Astana on April 10, he called on Kazakhstan to implement reforms.
Kazakhstan And The OSCE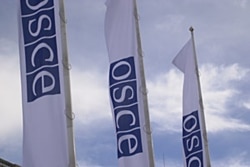 READY TO LEAD THE OSCE? Kazakhstan has been lobbying to be granted the rotating chair of the Organization for Security and Cooperation in Europe (OSCE) in 2009. In March, current OSCE head Karel De Gucht visited the country and said Kazakhstan is better prepared to head the OSCE than any other Central Asian country. But concerns about the state of democracy, the media, and ethnic relations make Kazakhstan's bid extremely controversial....(more)
RELATED ARTICLES
OSCE Says Kazakh Presidential Vote Flawed
OSCE Says Kazakh Obligations Not Met Ahead Of Vote
OSCE Offers Amendments To Kazakhstan's Draft Media Law
ARCHIVE
RFE/RL's
coverage of Kazakhstan
. The website of
RFE/RL's Kazakh Service
.