Turkmenistan Invites U.S. Firm To Work In Energy Sector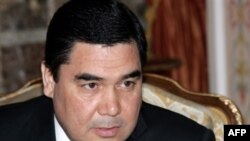 President Gurbanguly Berdymukhammedov (file photo) (AFP) May 4, 2007 -- Turkmen President Gurbanguli Berdymukhamedov reportedly has invited the U.S.-based oil firm Chevron Corp. to work in his country's Caspian Sea region.
Turkmenistan's state media issued the reports as international competition for access to that former Soviet republic's oil and natural-gas resources intensifies.
Berdymukhamedov met with Chevron executives on May 3 in Ashgabat.
He is due to meet Russian President Vladimir Putin and Kazakhstan's President Nursultan Nazarbaev on May 11.
Putin said in April that Moscow hopes to work on energy projects with Turkmenistan.
(compiled from news agency reports)