Montenegrin Foreign Minister Milan Rocen signed the documents today during an accession ceremony at the council's headquarters in Strasbourg, France.
"I have the historic honor to greet you on behalf of the citizens and leadership of Montenegro," Rocen said. "This is a great day for us -- a day when we have become a fully fledged member of the Council of Europe, the oldest, distinguished pan-European organization."
In a separate development, Serbia is due today to take over the Council of Europe's chairmanship.
Serbia is taking over the six-month rotating chairmanship despite concerns among some Council of Europe officials about the election of an ultranationalist, Tomislav Nikolic, as the speaker of Serbia's parliament.
(coe.int, AP)
Islam In The West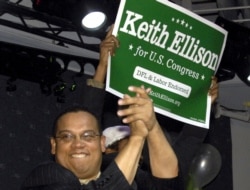 U.S. Congressman-elect Keith Ellison celebrates in November 2006 after becoming the first Muslim ever elected to the U.S. House of Representatives (epa)
CHALLENGES AND OPPORTUNITIES: Boston College professor Peter Skerry, a nonresident senior fellow at the Brookings Institution, led an RFE/RL briefing on issues related to integrating Muslim communities in Western societies.
LISTEN
Listen to the entire briefing (about 55 minutes):

Real Audio
Windows Media
RELATED ARTICLES
New Report Says EU Muslims Face Broad Discrimination
Bosnian Cleric Sees Unique Role For Europe's Muslims
Europe Proving To Be Growing Base For Al-Qaeda
Vienna Conference Ends With Appeals For Tolerance