Journalists, rights activists, and other officials are gathering at events in London, Tehran, Moscow, Hong Kong, and Ramallah.
Johnston was kidnapped at gunpoint on March 12 in Gaza City, presumably by Palestinian militants. He has not been seen or heard from since.
A little-known group calling itself Jaish al-Islam, or Army of Islam, recently claimed responsibility for Johnston's abduction and demanded the release of Muslim prisoners in British jails.
On an Islamist website, the group posted what appeared to be a picture of Johnston's BBC identification card.
In a statement May 16, the director-general of the BBC, Mark Thompson, said thousands of Alan's friends and colleagues across the BBC are "fervently hoping that he is safe and will soon be free to return home to his family."
Birthday Greetings
Johnston's parents recorded birthday greetings from their home in Scotland, with Graham Johnston telling his son, "Keep your chin up."
Among the vigils being planned worldwide, the BBC's bureau in Tehran is hosting an event with the United Nations and the Iranian Journalists' Association.
Ceremonies are also planned at the Moscow Journalists' House and the Foreign Correspondents' Club in Hong Kong.
Liliane Landor, the head of news and current affairs at the World Service, says the BBC is still hopeful about Johnston's fate. While there has been no proof of life, she says, there has also been no proof of death.
She says the events today to remember Johnston are part of a larger groundswell of support for the journalist's release.
"From Day 1, we've been trying to raise public awareness, and we've not had to do a very hard job on this," she says. "We've had around 90,000 people signing an online petition to free Alan. His colleagues have rallied to his cause across the world from Beijing to Buenos Aires, to Kabul, Bangkok, Paris, Jakarta, the Palestinian Territories, Iran. People have taken up his cause -- people who've known him and people who've not known him."
In addition to his parents, Landor says a number of noted writers have also recorded birthday greetings to Johnston, including Paulo Coelho and A.S. Byatt.
Help Offer From Detained Islamic Cleric
More than 93,000 people have signed an online petition calling for the release of Johnston (below).
Meanwhile, a radical Islamic cleric detained in Britain has offered to meet Johnston's captors.
A London-based Islamist organization, the Islamic Observatory Centre, says it has received a letter from Abu Qatada offering to help gain Johnston's release.
Qatada is being held by Britain as a threat to national security. His release was demanded by Jaish al-Islam, the group claiming to be holding Johnston.
A Foreign Office spokesman confirmed today that discussions are under way with Qatada's lawyer to see whether he would be willing to make a humanitarian appeal for Johnston's safe release.

(with agency, BBC material)
World Press Freedom Day
NOT REALLY SO FUNNY:
The Paris-based World Association of Newspapers asked French cartoonist Michel Cambon to produce a series of cartoons on the theme of jailed journalists to mark World Press Freedom Day (May 3). Below, RFE/RL reproduces several of Cambon's cartoons.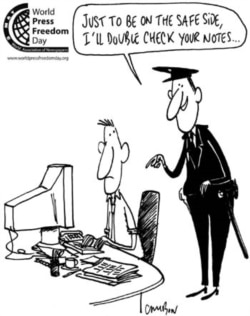 (WAN/Cambon)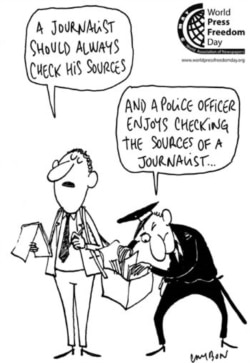 (WAN/Cambon)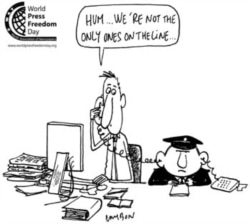 (WAN/Cambon)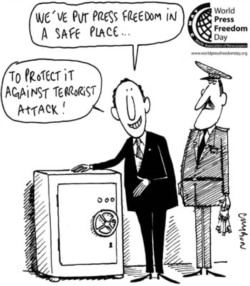 (WAN/Cambon)



RELATED ARTICLES
Threats To Press Freedom Growing More Severe
CIS Press Freedom Suffers Continued Decline
Pressure Mounting On Russian Opposition, Media
Uzbek Government Increases Its Blocking Of News Websites
ARCHIVE
To view an archive of RFE/RL's coverage of media-related stories, click here.
SUBSCRIBE
For regular news and analysis on media issues throughout RFE/RL's broadcast area by e-mail,
subscribe to "RFE/RL Media Matters."