Calin Popescu Tariceanu:
After 1990, and more specifically in 1991, when the current constitution was drafted, the party I represent, and I personally belonged to the constituent assembly at that time, I supported with many arguments the idea of a parliamentary republic. Unfortunately, the majority at that time decided in favor of the existing formula -- a mixture between the parliamentary and the presidential republic, which had shown its limits in the past and which has brought us today to a crisis situation.
Click here
for RFE/RL's interview with President Traian Basescu.
It is probably a model that works relatively well in France, but we have to bear in mind that France has another political elite and another political culture. Romania, unfortunately, does not have sufficient political culture at the level of leaders, or a true political leadership.
Keep in mind that the suspended president [Traian Basescu], too, is a former member of the [Romanian] Communist Party, and beneficiary of the communist era, a member of the National Salvation Front from the 1990s, who later moved to the left wing together with the party, and both recently nicely proclaimed themselves "people's." So, these are people who lack the necessary political science to exert the role of president, as it is designed in the Romanian Constitution.
The current president has also made a statement that was not contradicted by too many people, thought it should have been. He said, "I want to be a player as president, not an arbiter," as the constitution says. This was accepted with indulgence. And here you can see what it turned out to be later -- the failure to assume correctly the constitutional role has pushed Romania into a genuine political crisis, which resulted in the suspension of the president, with the organization of a referendum.
To answer your question exactly, I think that for the future, to avoid similar situations, which depend on a person's profile and the way he wants to fit the constitution, the fundamental law should be more accurate in definitions. It should be aiming at the European model, which in essence is a parliamentary model. Taking into account that there are many monarchies in Europe, though parliamentary monarchies, we have to deal either with parliamentary republics or parliamentary monarchies.
In other words, the role of the chief of state is a symbolic role. He symbolizes the state, but he does not carry any executive duties, which rest entirely with the government. This is the most widespread model in the European Union we know today, one that has proved its viability and capacity of avoiding political crises -- the kind Romania is going through now.
RFE/RL:
In opinion polls, let's assume they're credible, the rating of your [National Liberal, PNL] party is going down. Aren't you afraid that the classical voter pool of the PNL, which once supported the Democratic Convention, would be disappointed, because only your political adversaries are your allies now?
Tariceanu:
This is not a matter of alliance. We have a very clear position compared with the other parties, with the Social Democratic Party [PSD], as I think this is what you meant. We are political opponents and we share nothing in common. However, there is a paradoxical situation today in Romania, where numerous parties have come to share something in common. And this something is the attitude to sanction the behavior of the suspended president.
Sadly, I have found, too, that there is a variation in the PNL support rating in opinion polls. From discussions I have had with sociologists who specialize in analysis of such polls, I have learned that it is an attitude of a sentimental nature. It is an attitude born of emotion, which was generated by this situation and by the unknown of this situation. I have met a lot of people who wondered, "Well, if Basescu is impeached, what happens?" Mr. Basescu, you should know, is not a man of providence; he is far from being so. I think their fear is justified, with all my consideration for those carrying another opinion than mine.
Similarly, Romania is not running the risk of sinking near the shore, of lacking other persons to perform as president. I would look at the other countries that have joined the European Union recently, for instance, look at Hungary, where the president is not part of the politics zone, where he is a nonpolitical person who understands how to play a limited role, just like the Romanian Constitution requires.

RFE/RL:
It happens that Traian Basescu is a more voluble man. You think only a voluble person can divide the Romania society so deeply as to make us face a situation similar to that in the 1990s?
Tariceanu:
This is regrettable. When we talk about the chief of state, in any European country, and when I say "chief of state," you see I use a generic definition. No matter whether this is the president or the king. His role is reduced to a federator, a person who unites the energies, who represents and symbolizes the unity of the state. It is the case of Belgium, for example, where two significant communities exist within a federate country.
You will find not one country where the president succeeds in dividing society and placing it in adverse camps -- the way it happens in Romania today. I am afraid this is a very grave and very serious issue to meditate upon, because people have to understand that now Romania does not need to be divided; rather, it has to channel its efforts in the same direction, which is the road to wealth and prosperity.
RFE/RL:
I have to ask you a question I have received at Radio Free Europe from many former supporters of the Democratic Convention, supporters of yours as a political party. I am speaking, if that is more convenient, not to the prime minister but to the party chief. This is it: on December 18, in the presence of King Mihai and several important leaders from the former communist era, the president of Romania condemned the communist regime in Romania, branding it illegal and criminal. As you know, his speech was marked by a show directed in the session hall and some lodges for guests by the Greater Romania Party [PRM]. With the tacit agreement of the current interim president [Nicolae Vacaroiu], who had held high-ranking posts in the nomenclature before 1989. Why didn't you make your point then, why were you so passive? After all, you are the leader of the only historic party in the present parliament, and many Liberals were killed by the communist dictatorship.
Tariceanu:
There are two stories to tell you. First of all, as prime minister I attended that event, which I regret. That show was not masterminded by the PNL or by me, or by the [interim] president. The [interim] president understood the entire thing and he was wise enough to abstain from remarks, and from a confrontation with those who played that show. In fact, those in the PRM remained alone in this stance. I think I am glad about what happened then, because this was a way to see that the other parties implicitly supported the point of view regarding the condemnation of communism.
The second story I want to tell you and those who raise this issue is about the clarification of some things and their placement in a natural order. I invite everyone who let themselves be seduced by the gesture of President Basescu -- by the way, a gesture of no practical value -- to learn that it was the PNL that had launched the initiative to condemn communist. And even more: I decided, by ordinance, to amend the existing legislation regarding the organization and the functioning of the National Council for the Study of the Securitate Archives [CNSAS], which defines the political police the way we know, and which sheltered for a long time the persons who had cooperated with the secret police and who seek to hide in continuation behind this wall.
One year before Basescu [condemned communism], I had founded an Institute of Communism Crimes Study, which is led by Mrs. [Lucia] Hossu Longhin, and which brings together a significant group of Romanian intellectuals who can research what was done during the communist period and the crimes committed.
So, I would like to tell you that the PNL, in the good tradition of a historic party that had suffered for a long time because of communism, released its own [anticommunist] message long before Basescu [did]. Mr. Basescu has made a simple fake gesture, which indeed brought controversy to parliament, where a number of intellectuals I know and respect felt obliged to act violently -- because they were attacked personally, physically. This is what I would call the moment where things turned hot.
As for the rest, Mr. Basescu demanded a report compiled by a team led by Mr. Tismaneanu. I think it was a very useful thing that completes the message we started. From this perspective, all I can do is to welcome the president's gesture, though it came too late and due to a personal reason.
Let me remind you that in early 2005, when Ticu Dumitrescu asked Basescu to condemn communism, Mr. Basescu gave an answer that left a lot of people puzzled. He then realized that he made a political mistake and tried to repair things later. So, this is not a gesture he made from a profound conviction. This is how Basescu acts. I want to ask the listeners of Radio Free Europe to pay attention to this aspect. What he did was a political parade, determined by the need for political capital.
RFE/RL:
Forgive me, he was the chief of state: he did it officially, in front of parliament, while you attended without doing anything about that circus planned by the PRM....
Tariceanu:
I don't think the role of the prime minister in parliament is to take part in a political circus organized by the head of the Greater Romania Party. This is not an environment where a prime minister acts.
RFE/RL:
One more question. Do you think there was a competition about the condemnation of the communist regime?
Tariceanu:
This is a good question, but I feel it is for Mr. Basescu.
RFE/RL:
What is happening to the property fund Proprietatea and what is happening to your promise to settle the restitution issue rapidly. I am telling you this because the deputy chairman, Venerel Orban, supported by the Social Democratic Party, pushed for a draft law aiming at protecting -- again -- the tenants in nationalized housing.
Tariceanu:
I do not know this fact, I have not been updated about this Mr. Orban's approach. What I know is that I have defended legislation that helped create an institutional framework. The Proprietatea fund was created and former owners began receiving back their real estate or compensations. Many have gotten back their ownership titles or compensation money for confiscated proprieties.
I have found that from the functional point of view, the fund works with great difficulty. At this moment, the Finance Ministry has prepared a new ordinance to repair what stumbles over hardship and to accelerate this process. Therefore, the PNL remains fully involved in this project, which actually represents the values of liberalism, and namely the respect for and guarantee of property rights.
RFE/RL:
How do you see relations with Moldova? Press reports have said recently that you might visit Chisinau, after your meeting in Zagreb with [Moldovan] President [Vladimir] Voronin. So, when are you going to Chisinau, and what is the message you are taking to Moldova?
Tariceanu:
Indeed, I met in Zagreb President Voronin, and we two had a short discussion. I underlined one thing: my point of view -- I told President Voronin -- is that irrespective of the declarations made lately, which inflamed and actually blocked our relations with the Republic of Moldova, any problems can be addressed through dialogue. If the dialogue does not exist, then there is nothing we can really find in the message conveyed by the media; on the contrary, we lose. And more.
In Zagreb, at the 10th conference of the Southeastern European Cooperation Process, Moldova -- which is a member of this process, clearly stated that it wanted to advance toward the European Union. In other words it wanted to join the European Union in the future. I think that it is abnormal when tension exists in relations with a state like Moldova, with such natural aspirations, which we support. Prime Minister [Vasile] Tarlev has come on an official visit to Romania, so it is now my turn to go. Within the immediate future, we have to arrange via diplomatic channels this visit, which will take place in any case.
This will happen, however, after June 3, because this is the day of local elections in the Republic of Moldova. Of course, it is unnatural to travel there during a campaign or precampaign period, when all political leaders are concerned about other issues. I am not afraid of going to Moldova during such a period, but I wouldn't like to interfere -- and a Romanian prime minister does not interfere -- in the electoral process in a neighboring country, but I want the discussions to focus well on issues of common interest and on disputable problems that we are able to resolve.
RFE/RL:
Chisinau has asked Budapest to help in the European integration process....

Tariceanu:
I don't think this has found a correct interpretation. It is only about the common visa center, not about a full pledge of assistance. I hope Moldova realizes that Romania is a partner it can count on, in order to consolidate or maximize its chances to join the European Union at a certain moment.
RFE/RL Exclusive Interviews
RFE/RL Exclusive Interviews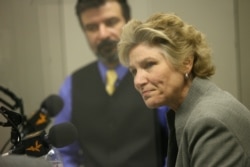 U.S. Undersecretary of State Karen Hughes being interviewed by RFE/RL in Prague on June 11 (RFE/RL)
AT THE MICROPHONE. RFE/RL frequently conducts in-depth interviews with leading newsmakers and analysts from throughout its broadcast region. Transcripts of many of these interviews have been gathered on a special archive page.
Recent Highlights:
Romanian President Traian Basescu | On EU aspirations
Georgian Integration Minister Giorgi Baramidze | On Georgia's relations with NATO, EU
U.S. Ambassador to the IAEA Gregory Schulte | On Iran's nuclear program
Kyrgyz Foreign Minister Alikbek Jekshenkulov | On relations with Uzbekistan
Former Ukrainian President Leonid Kuchma | On the return to power of Viktor Yanukovych