Iraqi Vice President Opposes Draft Oil Bill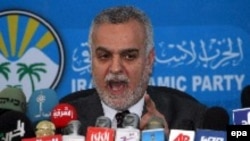 Vice President Tariq al-Hashimi (file photo) (epa) May 20, 2007 -- Iraqi Vice President Tariq al-Hashimi says he opposes a draft oil law, saying it gives too many concessions to foreign oil companies.
Al-Hashimi was speaking today in Jordan on the sidelines of an international conference hosted by the Geneva-based World Economic Forum.
Al-Hashimi acknowledged a need for foreign expertise, but stressed that foreign partners should not receive "big privileges" as Iraqis seek to attract them.
Al-Hashimi also said he hopes oil corporations will invest in Iraq, despite ongoing security concerns.
The Iraqi government is debating a draft oil law that allows for dividing the country's vast oil wealth.
Al-Hashimi said his party, the largest Sunni grouping with 44 seats in the legislature, will seek to amend the draft ahead of passage.
(AP)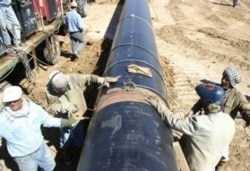 The pipeline from Kirkuk to Turkey is one of Iraq's main oil-export lifelines (epa file photo)

THE FUTURE OF THE ECONOMY. The uneven distribution of Iraq's oil resources has long been a source of tension among the country's ethnic and sectarian groups. Since the fall of Saddam Hussein, the tangled quest to find an equitable way to share oil revenues has been a major stumbling block on the road to national unity.
RELATED ARTICLES
Kurdish Oil Law Poses Problem For Baghdad
Ethnic Tensions Increasing In Oil-Rich City
Government Struggles To Revive Oil Infrastructure
Iraqi Oil Sector Faces Tough Times
Kurds Claim Their Right To Oil