Tabandeh loyalists claimed that several of his supporters were beaten and detained along with him.
The reason for the arrest of Tabandeh, the leader of the Nematollah Gonabadi order, is unclear.
In October, 300 security forces surrounded Tabandeh's Gonabad residence after he refused to leave his city of birth.
Gonabad is the birthplace of the leaders of the Nematollahi Gonabadi dervish order, many of whom lived and were buried there.
Tabandeh's arrest has upset many supporters, who have said they will peacefully protest his arrest and call for his release.
One of Tabandeh's loyalists in Tehran who asked not to be identified told RFE/RL that this arrest followed calls by authorities for him to leave Gonabad.
"Some time ago, intelligence officials in Mashhad said [Tabandeh] should leave [the city], but he said, 'I will remain in Bidokht' -- because there was no legal reason for him to leave the city and go to Tehran and because they had asked to do that forcefully and illegally," the supporter said. "It's been15 days now [since the warning] that he had stayed in Bidokht. But they acted like thieves -- they arrested him on the road [to Aliabad] -- they didn't come to Bidokht."
The same source said some supporters have considered far more serious acts to draw attention to what they regard as official persecution.
"By tomorrow, all the [dervishes] will depart for Bidokht -- they're going from different provinces to Bidokht," the source said. "Two of the dervishes had wanted to immolate themselves in front of the governor's office because none of the officials have provided a response. But other dervishes prevented that from happening because it could have a negative impact. But they cannot end this story like this. What the government has done is illegal."

Increasing Pressure On Religious Minorites
High-profile cases like Tabandeh's suggest that pressure on minority religious groups, like Sufis and dervishes, has increased in Iran.
Last year, a Sufi house of worship was destroyed in Qom, and hundreds of Sufis were detained.
The U.S. Commission On International Religious Freedom said in a May 2 statement that an already "poor" government record on religious freedom had deteriorated in the past year -- particularly for religious groups like Sufi Muslims and Evangelical Christians.
Critics are likely to claim that Iranian authorities' latest move against the leader of the Nematollahi order is another sign of intolerance toward those who do not practice Islam as it is promoted by the political and religious establishment.
Several conservative clerics have in recent months described Sufism as a danger to Islam.
Tabandeh's Nematollahi Gonabadi order is reportedly among the largest Sufi groups in Iran.
Iran's Arab Minority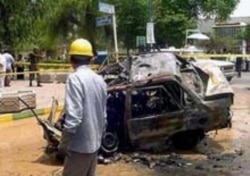 The aftermath of a car bombing in Ahvaz on June 12, 2005 (epa)
DISCONTENT IN THE SOUTH: There are approximately 2.07 million ethnic Arabs in Iran (3 percent of the total population of 69 million), most of them living in the region around the southern city of Ahvaz. The region has been the scene of numerous terrorist attacks and demonstrations over the years. Arab groups cite historical grievances, and they bemoan inadequate attention to their culture and language by state media....(more)
RELATED ARTICLES
Handling Of Ahvaz Unrest Could End With Televised Confessions
Bombing Accusations Highlight 'Differences And Disagreements'
Bombings In Southwest Blamed On Usual Suspect