The Foreign Ministry said that Russia has approached the Netherlands, the depositary of the treaty, with a request to call an emergency conference on June 12-15 in Vienna.
President Vladimir Putin last month said Russia will suspend compliance with the treaty because NATO members Slovenia and the Baltic states have not signed it, while other NATO signatories have not ratified it and are not abiding by its provisions.
The United States and other NATO members insist that those countries may
not accede to the treaty until all existing signatories ratify it,
which they will do only after Russia makes good on commitments it gave
at the 1999 Organization for Security and Cooperation in Europe (OSCE) summit in Istanbul on withdrawing its forces from
Transdniester and Georgia.
Russia has rejected such linkage as "absurd" and has "transformed the arms control regime in Europe into
a tool for achieving political objectives that have nothing to do with
European security," Foreign Minister Sergei Lavrov said on May 23.
(Reuters, Interfax)
U.S.-RUSSIA RELATIONS IN FOCUS
Allies Or Adversaries?

"I think there was too much euphoria, too much of an inclination to declare that Russia was a democracy," former U.S. national security adviser Zbigniew Brzezinski told RFE/RL.

more

Confused Or Cunning?

Harvard Historian Richard Pipes argues that Putin's Russia is confused about its role in the world and, therefore, an unreliable partner for the United States.

more
Conventional Forces In Europe
Conventional Forces In Europe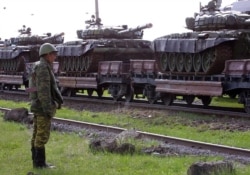 A Russian soldier watching Russian armaments leave Georgia in 2006 (epa)


AGREEMENTS ON CONVENTIONAL FORCES IN EUROPE. The CFE treaty is an arms-control agreement originally negotiated between NATO and the Warsaw Pact as a guarantor of European security in Europe in the waning days of the Cold War.

The original CFE Treaty took 10 years to negotiate, was signed by 30 states ** in November 1990, and came in to force in 1992. Its aim: to reduce stockpiles of conventional armaments between the Atlantic Ocean and the Ural mountains.
The blocs limited themselves to:
20,000 tanks
20,000 artillery pieces
30,000 armored combat vehicles
6,800 combat aircraft
2,000 attack helicopters

The CFE-1A, a 1992 addendum, has resulted in the withdrawal of more than 700,000 troops from Europe since 2001 and the destruction of 50,000 pieces of military equipment by 1995.
The CFE-II, negotiated in Istanbul in 1999, reflected the new, post-Soviet landscape by setting arms limits for individual countries, rather than zones. The agreement aided NATO's expansion efforts by allowing signatory states to allow foreign forces on their soil.
NATO states have not ratified the CFE-II due to concerns over Russia's failure to comply with commitments it made during the negotiations. Under the Istanbul Accords, Russia pledged to set a timetable for closing its remaining military bases in Georgia and to completely withdraw its forces from Moldova.
The CFE-II will come into force once ratified by all 30 CFE signatories. Thus far only Belarus, Kazakhstan, Russia, and Ukraine have ratified the CFE-II.
In ratifying the agreement in June 2004, Russia called on the signatories not to delay in ratifying the document. Russia expressed concern that Lithuania, Estonia, and Latvia, as nonmembers of the treaty, could possibly harbor NATO troops near its western border.
(** Armenia, Azerbaijan, Belarus, Belgium, Bulgaria, Canada, Czech Republic, Denmark, France, Georgia, Germany, Greece, Hungary, Iceland, Italy, Kazakhstan, Luxembourg, Moldova, the Netherlands, Norway, Poland, Portugal, Romania, Russia, Slovak Republic, Spain, Turkey, Ukraine, the United Kingdom, and the United States. )