Police say about 25 others were wounded in the blast.
Balad Ruz is in Diyala Governorate, which has been the scene of heavy fighting in recent weeks between militants and U.S. and Iraqi troops.
Meanwhile, the U.S. military says five more U.S. troops have been killed in separate attacks in and around the Iraqi capital on June 2.
A roadside bomb killed one soldier in western Baghdad. A second was killed in an explosion in Diyala Governorate. A third was killed by small-arms fire while on patrol south of the capital. Two other soldiers were killed by a roadside bomb in Ninawa Governorate.
(AFP, Reuters, AP)
Searching For A Way Forward
Searching For A Way Forward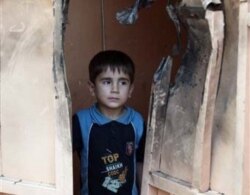 A boy looks out from his Baghdad home (AFP)
LOOKING BEYOND AL-MALIKI: RFE/RL Iraq analyst Kathleen Ridolfo led an RFE/RL briefing about the changing political landscape in Iraq, focusing on efforts to gain the upper hand in the event that the government of Prime Minister Nuri al-Maliki falls.
LISTEN
Listen to the entire briefing (about 70 minutes):

Real Audio
Windows Media
RELATED ARTICLES
Opposition Appears Set On Bringing Down Al-Maliki
Former Premier Pushing New Plan For Reconciliation
Al-Sadr Prepares For Post-Coalition Era
Sunni Ultimatum Rocks Al-Maliki's Position


THE COMPLETE STORY: RFE/RL's complete coverage of events in Iraq and that country's ongoing transition.