Lawyers said the Netherlands and the UN should be held jointly responsible for the fall of the enclave and the genocide that took place there as a result. During the 1992-95 Bosnian war, Srebrenica was a UN-protected safe area guarded by a Dutch army unit.
But it was overrun in July 1995 by Bosnian Serb forces, who then took away and massacred some 8,000 Muslim men and boys.
(Reuters, AP, vandiepen.com)
While The World Was Sleeping
While The World Was Sleeping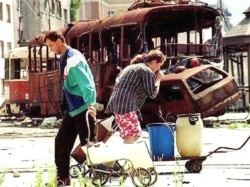 Sarajevo residents fetch water amid war debris in July 1993(AFP)
THREE LONG YEARS: RFE/RL correspondent Vlado Azinovic has also written a book entitled "While The World Was Sleeping," which documents the failure of the international community to respond promptly to the civilian tragedies of the Bosnian War. The book and the audio reports based on it that were produced by RFE/RL's South Slavic and Albanian Languages Service are available online in Bosnian.