July 19, 2007: Russia announces it will expel four British diplomats in response to Britain's decision to send home four Russian diplomats due to Moscow's refusal to extradite former KGB agent Andrei Lugovoi, a key suspect in the murder of former security service officer Litvinenko. Britain calls the expulsions "unjustified."
July 18: British police announce that in June they arrested a man in connection with an alleged plot to murder self-exiled Russian businessman Boris Berezovsky, one of the first to accuse the Kremlin of ordering Litvinenko's murder.
July 17: Russian Deputy Foreign Minister Aleksandr Grushko says Moscow will make a "targeted and adequate" response to Britain's expulsion of four diplomats.
July 16: Britain said today it will expel four Russian diplomats because Moscow has refused to extradite Lugovoi. Britain says it will also take steps to limit cooperation on visa and security issues.
July 10: Britain's Foreign Office says Russia's refusal to extradite Lugovoi is "unacceptable."
July 7: Russia's Federal Security Service (FSB) opens a criminal investigation into allegations that Britain's foreign intelligence service, MI6, recruited a Russian man for spying.
July 5: Russian prosecutors officially refuse a British extradition request for Lugovoi. June 22: Russia says it is checking allegations that Berezovsky was involved in the killing of Litvinenko.
June 4: Russian President Vladimir Putin dismisses as "foolishness" a demand by British prosecutors for the extradition of Lugovoi.
June 3: Litvinenko's widow, Marina, says Lugovoi's allegations that her husband was a British spy are part of a "KGB model" campaign.
May 31:
Lugovoi holds
a Moscow press conference
in which he claims British secret services were behind Litvenenko's death.
May 28: Lugovoi says he does not rule out handing himself over to the British Embassy in Moscow.
May 27: The Cannes Film Festival screens "Rebellion: The Litvinenko Case."
May 25: British prosecutors formally request Lugovoi's extradition to face murder charges. Russia says doing so would violate the Russian Constitution.
May 22: British prosecutors announce that they have enough evidence to charge Lugovoi with Litvinenko's murder.
January 22, 2007: Britain's BBC television broadcasts two documentary films on Litvinenko's death: "My Friend Sash: A Very Russian Murder" and "How To Poison A Spy."
December 3: U.K. Home Secretary John Reid says the Litvinenko investigation will likely widen to Europe.
December 2: Scaramella shows "no evidence of radiation toxicity" in early tests. Three British Airways planes are cleared for use again. Ireland's health authorities find no traces of radiation at the hospital where Gaidar was treated.
December 1: Scaramella tests positive for polonium-210 and is hospitalized. Doctors say he is "well," with symptoms less serious than the ones that led to Litvinenko's hospitalization. A specialist postmortem examination of Litvinenko's body takes place. Litvinenko's friend Alex Goldfarb says he has given British police scans of letters he says were written by a jailed former Russian intelligence officer showing the existence of a secret squad targeting Litvinenko and others. Ireland's nuclear watchdog assists police investigating Gaidar's mystery illness.
November 30: U.K. Home Secretary John Reid announces that traces of radioactivity have been found in around a dozen locations. Four aircraft are grounded pending radiation checks. One is given the all-clear. Reid says the authorities may also be interested in a fifth Russian jet.
November 29:Prime Minister Tony Blair pledgesthere will be "no diplomatic or political barrier in the way of that investigation." British Airways says it has found low levels of radioactivity on two aircraft, including one flown back from Moscow to London. Former acting Russian Prime Minister Yegor Gaidar is reported to be in hospital after falling ill in Ireland, triggering speculation of a link.
November 28: Authorities confirm traces of radioactivity at five locations. Russian prosecutors in Moscow offer to cooperate with British police.
November 27: Traces of radioactivity are found in two new locations. Scaramella is taken into protective police custody.
November 26: Hundreds call emergency health hotline to report symptoms, while a government minister, Northern Ireland Secretary Peter Hain, laments the "murky" death of Litvinenko.
November 25: Scaramella alleges the Kremlin was behind the Russian's killing. British authorities urge people who were in the contaminated sushi bar or hotel to contact them. COBRA meets again.
November 24: In a death-bed letter, Litvinenko blames Russian President Vladimir Putin for his demise. Putin condemns the claim as politically motivated. Health authorities say Litvinenko was probably poisoned with polonium-210, in an "unprecedented" attack in Britain. Polonium-210 found Litvinenko's London home, the hotel, and sushi bar he visited. The government's top security committee, COBRA, meets to discuss the situation. The Foreign Office says it has raised the case with the Russian Embassy.
November 23: Doctors rule out thallium as the poison, leaving the cause unclear. Litvinenko dies at 9:21 p.m. local time.
November 21: A key doctor says Litvinenko may have been poisoned with thallium. Scaramella says that he and Litvinenko were targeted on a hit list.
November 20: Litvinenko is transferred into intensive care. A photograph is released showing him bald and wearing a green hospital gown. Antiterrorism police take over the probe. Moscow rejects claims that it was behind the poisoning.
November 19: British newspapers break the story of his poisoning, initially thought to be caused by radioactive thallium.
November 17: Litvinenko is transferred to University College Hospital in central London.
November 16: Police are informed that Litvinenko is in a serious condition in hospital in Barnet, north London.
November 1, 2006: Former Russian security officer and vocal Kremlin critic Aleksandr Litvinenko meets two Russians for tea in a central London hotel, then meets an Italian contact, Mario Scaramella, in a sushi restaurant. Shortly after, Litvinenko starts to feel ill.
Facts About Polonium-210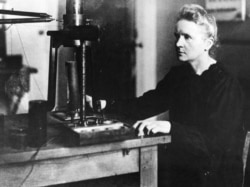 Marie Curie at work in 1925 (AFP)
Polonium, also called "radium F," was discovered by Marie Curie and her husband, Pierre Curie, in 1898 and was later named after Marie's homeland of Poland (Latin: Polonia).
It is an alpha emitter, meaning that although it is highly radioactive, it cannot penetrate human skin or a sheet of paper. Washing eliminates traces.
Contact with a carrier's sweat or urine could lead to exposure. But polonium-210 must be ingested or inhaled to cause damage.
Polonium-210 has a relatively short half-life of 138 days.
Polonium-210 occurs naturally in the environment (it is found in such things as dirt and tobacco) and in people at low concentrations. But acquiring a lethal amount would require individuals with expertise and connections.
Polonium-210 emits 5,000 times more alpha particles than radium, and an amount the size of the period at the end of this sentence would contain about 3,400 times the lethal dose. A dose like the one that killed former Russian spy Aleksandr Litvinenko would probably have been manufactured at a nuclear facility.
Russia exports 8 grams of polonium-210 monthly, all of it to the United States. Exports to Britain ended about five years ago.