Iran To File Charges Against Radio Farda Journalist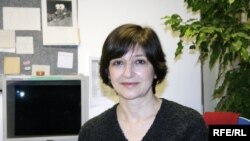 Parnaz Azima (file photo) (RFE/RL) June 11, 2007 (RFE/RL) -- Iranian government officials have informed lawyers for Radio Farda correspondent Parnaz Azima that they will not return her passport and that her case will have to be decided in court.
Azima's lawyer, Mohammad-Hossein Aghasi, told RFE/RL by phone from Tehran on June 10 that the Iranian Information Ministry declined the latest request to return her passport, which was confiscated five months ago, and will refer the matter to the Judiciary.
Aghasi said it could take months for the first court session to convene. Azima has been prevented by Iranian authorities from leaving Iran since January.