Interior Minister Dragan Jocic says some 10,000 rounds of ammunition and 15 kilograms of explosives were found during a series of raids in the Sandzak, an ethnically mixed region that straddles Serbia and Montenegro and is principally populated by Bosnian Muslims.
Police believe the munitions were intended for "terrorist actions" by Muslim extremists against targets in the region.
In recent months, Serbian police have conducted a
number of raids in the area
against what they describe as "Wahhabis," a generic term in the Balkans for Islamic radicals.
The leader of one such group was killed in April, while four people were arrested and rocket launchers, explosives, and weapons seized in a raid in mid-March on what police called a training camp.
(AP, B92)
While The World Was Sleeping
While The World Was Sleeping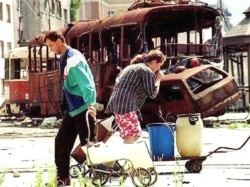 Sarajevo residents fetch water amid war debris in July 1993(AFP)
THREE LONG YEARS: RFE/RL correspondent Vlado Azinovic has also written a book entitled "While The World Was Sleeping," which documents the failure of the international community to respond promptly to the civilian tragedies of the Bosnian War. The book and the audio reports based on it that were produced by RFE/RL's South Slavic and Albanian Languages Service are available online in Bosnian.