Croatian Serb Commander Sentenced To 35 Years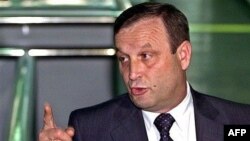 Martic in May 2002 (AFP) June 12, 2007 -- The UN war crimes tribunal has convicted a wartime leader of Croatia's rebel Serbs of murder, torture, and persecution, sentencing him to 35 years in prison.
The court found Milan Martic responsible for hundreds of murders of non-Serbs from 1991, when Serbs in the Krajina region of northeastern Croatia rebelled and set up a ministate until 1995, when Croatian forces recaptured the area.
Martic was also convicted of ordering the shelling of the Croatian capital, Zagreb, in May 1995.
(compiled from agency reports)

SUBSCRIBE
For a regular review of politics, media, and RFE/RL broadcasts in the western Balkans,
subscribe to "RFE/RL Balkan Report."