He added that he is "increasingly disturbed" by the matter. Iran denies allegations it is covertly using its nuclear program to develop atomic weapons.
Iran's nuclear program is at the center of a meeting of the IAEA Board of Governors in Vienna all this week.
El-Baradei says he is alarmed at the growing sense of confrontation between Tehran and the world powers, which he says could end in war.
The meeting opened June 11 with el-Baradei calling it "regrettable" and "disconcerting" that Iran is steadily perfecting its knowledge of the uranium-enrichment process while limiting cooperation with IAEA inspectors.
El-Baradei described Iran as the IAEA's primary arms proliferation concern. The UN Security Council had repeatedly ordered Iran to halt its uranium-enrichment program because of suspicions it is trying to develop nuclear weapons. But Iran has refused.
Washington's IAEA ambassador, Gregory Schulte, says a new IAEA report on Iran's nuclear activities documents two "very disturbing trends."
"The first trend is that Iran's leadership is moving forward aggressively, defiantly -- and despite three UN Security Council resolutions -- to develop uranium-enrichment capabilities," he said.
Latest reports indicate that Iran has developed a cascade of several thousand centrifuges at its underground plant at Natanz. The Iranians claim to have successfully enriched uranium by several percentage points, but that is still well below the level required to make a nuclear bomb.
Schulte said that in addition, Iranian officials are restricting the access of IAEA inspectors to nuclear sites -- an "on again, off again" game which has been going on for several years.
"The second disturbing trend is that Iran continues to withdraw cooperation from the IAEA; most recently Iran decided not to supply the IAEA with early design information on new nuclear facilities and it also decided to deny IAEA inspectors access to a heavy-water reactor," he said.
Highlighting the apparent hardening of positions, Iran abruptly cancelled a meeting on June 11 set between its deputy nuclear negotiator, Javad Vaidi, and IAEA officials. Reuters quotes diplomats in Vienna as saying Vaidi withdrew because he did not want to face IAEA questions about Iranian nuclear activities.
Diplomats give the same reason for what they see as the inconsequential talks that have taken place between Vaidi and European Union officials -- that the Iranian did not want to discuss concrete issues.
Schulte indicated that it's time for Tehran to end such stalling tactics.
"Before every meeting of the IAEA board, Iran comes in and promises fuller cooperation with the IAEA, but although they make this promise to every board meeting, then they produce nothing," he said. "I would like to see them actually start cooperation -- that would be a very important step -- and then next they need to suspend these activities of concern."
El-Baradei says he is alarmed at the growing sense of confrontation between Tehran and the world powers, which he says could end in war.
The United States has said it wants to end the dispute by diplomatic means, but has not ruled out the use of force. However, there are voices in the U.S. political scene advocating quick action.
The latest is from prominent Senator Joe Lieberman (independent, Connecticut), who has called for a possible military strike on Iran to dissuade it from training and equipping extremists who are killing U.S. troops in Iraq.
Talking Technical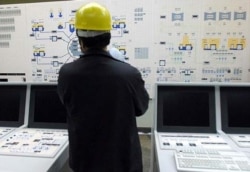 A control panel at the Bushehr nuclear power plant (Fars)

CASCADES AND CENTRIFUGES: Experts and pundits alike continue to debate the goals and status of Iran's nuclear program. It remains unclear whether the program is, as Tehran insists, a purely peaceful enegy project or, as the United States claims, part of an effort to acquire nuclear weapons.
On June 7, 2006, RFE/RL correspondent Charles Recknagel spoke with nuclear expert Shannon Kile of the Stockholm International Peace Research Institute in Sweden to help sort through some of the technical issues involved. "[Natanz] will be quite a large plant," Kile said. "There will be about 50,000 centrifuges and how much enriched uranium that can produce [is] hard to say because the efficiency of the centrifuges is not really known yet. But it would clearly be enough to be able to produce enough [highly-enriched uranium] for a nuclear weapon in fairly short order, if that's the route that they chose to go...." (more)
RELATED ARTICLES
Tehran Says It Is Working On Advanced Nuclear Fusion
Would Light-Water Reactor Suit Tehran's Needs?
Satellite Images Raise Questions About Iran's Nuclear Program
Centrifuges And Political Spin?
How Close Is Iran To Getting Nuclear Bomb?
Iran: The Worst-Case Scenarios

THE COMPLETE STORY: RFE/RL's complete coverage of controversy surrounding Iran's nuclear program.