The attack in Baghdad's busy commercial district of Sinak came just hours after thousands of U.S. and Iraqi troops launched a new offensive north of Baghdad aimed at clearing the region of Sunni insurgents and Al-Qaeda.
The operation is called Arrowhead Ripper and involves some 10,000 U.S. and Iraqi soldiers in Diyala Governorate.
The operation began in earnest overnight, with air and ground assaults in and around the provincial capital of Ba'qubah, 60 kilometers north of Baghdad.
By daybreak, the U.S. military said 22 militants had been killed. The Diyala operation opens a new front and comes in response to changing insurgent tactics.
The U.S.-led troop surge in Baghdad, and Al-Anbar Governorate to the west, has meant insurgents, who are being pushed out of those areas, are refocusing their activities to other parts of the country.
In a report issued on June 13, the Pentagon said the rise in attacks in Diyala and Ninawa governorates were threatening to offset coalition gains in Iraq's center. In recent months, Diyala Governorate has emerged as a center of the Sunni Arab insurgency, with Al-Qaeda In Mesopotamia and other militant groups turning it into a base of operations.
Shi'ite militias have also been active in the region. Diyala Governorate, a prime agricultural region of date and orange groves has a mixed Sunni and Shi'a population. That makes it explosive as extremists seek to fan sectarian tensions. Thousands of people have already been forced from their homes in fighting between militant groups.
While Diyala Governorate appears to be a current epicenter of insurgent-led violence in Iraq, the Pentagon report also notes a rise in militant attacks in the southern city of Al-Basrah as well as Mosul and Tal Afar in the north, all of which were once touted as islands of relative stability.
Operation Arrowhead Ripper comes just days after the U.S. military said it had completed its buildup of forces in Iraq to 160,000 troops.
(compiled from agency reports)
Searching For A Way Forward
Searching For A Way Forward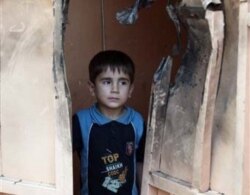 A boy looks out from his Baghdad home (AFP)
LOOKING BEYOND AL-MALIKI: RFE/RL Iraq analyst Kathleen Ridolfo led an RFE/RL briefing about the changing political landscape in Iraq, focusing on efforts to gain the upper hand in the event that the government of Prime Minister Nuri al-Maliki falls.
LISTEN
Listen to the entire briefing (about 70 minutes):

Real Audio
Windows Media
RELATED ARTICLES
Opposition Appears Set On Bringing Down Al-Maliki
Former Premier Pushing New Plan For Reconciliation
Al-Sadr Prepares For Post-Coalition Era
Sunni Ultimatum Rocks Al-Maliki's Position


THE COMPLETE STORY: RFE/RL's complete coverage of events in Iraq and that country's ongoing transition.