Iran Appoints New UN Envoy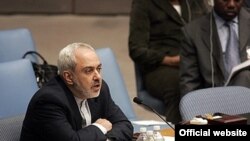 Zavad Zarif served at the UN for five years (file photo) (official site) June 24, 2007 (RFE/RL) -- Iran has appointed Mohammad Khazaei as its new envoy to the United Nations in New York.
Foreign Ministry spokesman Mohammad Ali Hosseini said today that Khazaei, a former deputy economy minister, will replace Mohammad Javad Zarif, who has been at the UN for the last five years, dpa reported.
As Iran and the United States have no diplomatic ties, the Iranian UN envoy also acts as a de facto ambassador to the United States.