Abbas has previously accused "foreign elements from the region" of orchestrating this month's bloody takeover of Gaza by Hamas.
But allegations made on June 24 by intelligence chief Tawfiq al-Tirawi mark the first time that a senior official in the Palestinian Authority has explicitly blamed Iran.
Al-Tirawi said dozens of members of Hamas have received military training in Iran and that Hamas has smuggled weapons into Gaza through tunnels -- not to fight Israel, but to fight the Palestinian Authority.
Tehran Spotlighted
Egyptian Foreign Minister Ahmed Abul Gheit last week leveled similar accusations against Iran. He said Tehran encouraged Islamist militants in the Hamas movement to seize the Gaza Strip.
Iran's Foreign Ministry spokesman, Mohammad Ali Hosseini, dismissed the allegations on June 24, saying Tehran neither encouraged nor assisted the takeover of Gaza by Hamas.
"Our support for Hamas has had a political and moral aspect," Hosseini said. "When Hamas succeeded in establishing a government based on the Palestinian people's votes and the national unity government was created, we gave humanitarian support to this government."
Hamas Blames West
For its part, Hamas also has rejected al-Tirawi's allegations as "lies."
The recently dismissed Palestinian prime minister from the Hamas movement, Ismail Haniya, says the root cause of the Gaza crisis was Western pressure on his government -- particularly, the diplomatic and economic boycott against his government following Hamas's January 2006 election victory.
Haniya says the problem is not between himself and President Abbas, nor between Hamas and Abbas's Fatah movement. He said the real problem is "with a group supported from abroad and with a foreign agenda.
'Internal Palestinian Dynamics'?
Moin Rabbani, an expert on the Middle East for the International Crisis Group (ICG), said he thinks both Hamas and Fatah are wrongly blaming outsiders for an internal Palestinian dispute.
"It does not seem to me that there was a clear Iranian-inspired plan for these events to happen," Rabbani said. "They were driven, first and foremost, by internal Palestinian dynamics rather than external actors -- whether those supporting Hamas or those supporting Fatah."
Rabbani said Iran's financial support for Hamas is widely known. And he said Iran may be offering other forms of support. But he said allegations that the violence in Gaza was somehow part of a grand Iranian plot seems far-fetched.
"Iran is certainly capable of providing various forms of support to Hamas," Rabbani said. "But the nature of the arrangements, and the logistics, and the border is such that I don't see that they can provide Hamas with a decisive advantage. It's also my view that Hamas understands very clearly the perils of being turned into nothing but an Iranian proxy. So as far as these allegations are concerned, are they pure fantasy? No. There is a clear relationship between Hamas and Iran which both sides acknowledge. Presumably, there are covert elements to that relationship. At the same time, I think those making the allegations are also keenly aware of the political impact it will have in the West -- particularly in the United States -- and the political support this would garner them. And I think that is also an important element of these allegations."
Others in the region stress that Iranian support has been essential for Hamas to achieve its recent gains.
Bassem Eid, the head of the Palestinian Human Rights Monitoring Group, a nongovernmental organization based in East Jerusalem, told RFE/RL that Hamas was able to defeat the security forces of Fatah in Gaza partly as a result of training and weaponry provided from Iran.
"It looks like through the operation of Hamas, I can see the Iranian weapons there," Eid said. "I am quite sure [of the Iranian connection]. And this is why Hamas becomes more violent than any other Palestinian political movement."
Meanwhile, there are concerns among ordinary Iranians that their president, Mahmud Ahmadinejad, has been fueling the Middle East crisis in order to distract attention from domestic economic woes.
A 25-year-old law student in Tehran told Radio Farda today that she is unhappy about reports that Iran is funding groups like Hamas.
"As an Iranian, I believe that whatever act Iran would do to support conflict is so wrong," the student said. "Specifically, if Iran is funding Hamas and causing more instability, it is wrong because these goals bring more war. We had a history of war which clearly shows it is not appropriate for Iran to support terrorist groups and insurgents like Hamas. In addition to that, it is more problematic when Iran has its own desperate economic needs but we are sending money to other countries."
Iran also has been accused of sending weapons to militants in Iraq, Lebanon, and Afghanistan.
In May, Turkish authorities reportedly seized a cargo of machine guns and pistols hidden among construction materials on a Syria-bound train from Iran. Turkish officials say that discovered has led them to suspect that Iran is using Turkey as a transit point to send arms to Lebanon's Hizballah movement via Syria.
RFE/RL's Radio Free Afghanistan correspondent Sharafudeen Stanikzai has documented Iranian-produced land mines and other weapons that are being used by militants in western Afghanistan near the border with Iran.
U.S. Defense Secretary Robert Gates has said Washington suspects but cannot prove direct involvement by Iran's government.
The Iranian government denies it has provided military support to militants in Afghanistan, Iraq, Lebanon, or the Palestinian territories.
(Radio Farda and RFE/RL's Radio Free Afghanistan contributed to this report.)
Iran, Syria, And Hizballah
Iran, Syria, And Hizballah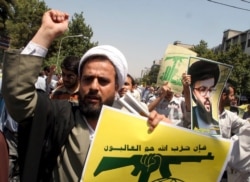 Iranians demonstrating in support of Hizballah in Tehran on July 17 (epa)

'FOR THE SAKE OF LEBANON': The Islamic Republic of Iran has served as an ideological inspiration for Hizballah since the Lebanese militant group's creation in 1982, and Tehran acknowledges that it supports the organization morally and politically. "Yes, we are friends of Syria and Iran" Hizballah leader Hassan Nasrallah has said. "For 24 years we benefited from our friendship with Syria and Iran for the sake of Lebanon...." (more)
RELATED ARTICLES
Tehran Playing Key Role In Israel-Lebanon Crisis
Iran, Hizballah Brush Off U.S. Terrorism Label
Intifada Conference In Tehran Has Multiple Objectives
UN Resolution Rankles Syria, Hizballah, Iran
ARCHIVE
RFE/RL
coverage of Iran
. RFE/RL web special on
Iran's nuclear program
.
SUBSCRIBE
For weekly news and analysis on Iran by e-mail,
subscribe to "RFE/RL Iran Report."