"I've just accepted the invitation of Her Majesty the Queen to form a government," Brown announced outside the prime minister's residence and office at 10 Downing Street in London.
"This will be a new government with new priorities," he added. "And I have been privileged to have been granted the great opportunity to serve my country."
Brown said there is a need for change in Britain, particularly in its health-care system and schools.
The 56-year-old Brown is expected to appoint new members to his cabinet on June 28.
Commentators suggest that British involvement in Iraq and recent allegations of government corruption over Saudi defense contracts will challenge Brown's leadership from the start.
Tony Blair tendered his resignation earlier in the day, officially ending his 10 years in power. Soon afterward, he was appointed envoy for the Middle East Quartet that mediates peace efforts between Israel and the Palestinians. The Quartet comprises the European Union, Russia, the United Nations, and the United States.
During his final prime minister's questions in parliament today, Blair said his "absolute priority" will be to try to move forward on what he said is already a consensus in the international community -- that the only way of bringing stability and peace to the Middle East is a two-state solution.
(compiled from agency reports)
Searching For A Way Forward
Searching For A Way Forward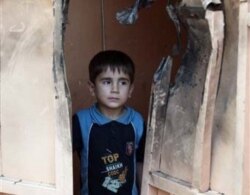 A boy looks out from his Baghdad home (AFP)
LOOKING BEYOND AL-MALIKI: RFE/RL Iraq analyst Kathleen Ridolfo led an RFE/RL briefing about the changing political landscape in Iraq, focusing on efforts to gain the upper hand in the event that the government of Prime Minister Nuri al-Maliki falls.
LISTEN
Listen to the entire briefing (about 70 minutes):

Real Audio
Windows Media
RELATED ARTICLES
Opposition Appears Set On Bringing Down Al-Maliki
Former Premier Pushing New Plan For Reconciliation
Al-Sadr Prepares For Post-Coalition Era
Sunni Ultimatum Rocks Al-Maliki's Position


THE COMPLETE STORY: RFE/RL's complete coverage of events in Iraq and that country's ongoing transition.