Police have yet to identify the victims.
The discovery came as a car bomb killed at least 25 people and wounded about 40 today at an intersection in Baghdad where minibuses pick up and drop off passengers.
Police said the explosion took place in the mainly Shi'ite district of Bayaa, in southwestern Baghdad.
A spokesman for Iraq's security forces, Brigadier General Qassim al-Atta, told RFE/RL's Radio Free Iraq that the blast struck near a bus station.
"The investigation showed that the explosion was caused by a bomb planted in a Kia van," he said. "It is also evident that it contained gas cylinders and a lot of TNT [explosives]. Most probably the car bomb was put together in the area not far from the explosion site."
Around 40 vehicles were set ablaze by the bomb.
In other violence, police said two people were killed in central Baghdad by mortar bombs today.
Three British soldiers were killed by a roadside bomb in the southern Iraqi city of Al-Basrah.
(with agency reports)
Iraqi Insurgent Media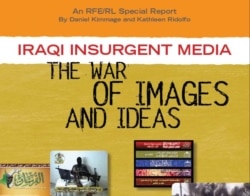 GETTING THE MESSAGE OUT. RFE/RL analysts Daniel Kimmage and Kathleen Ridolfo have produced a book-length study on the media efforts of the insurgency in Iraq and on how global jihadists are exploiting those efforts to spread their destructive message around the world....(more)
DOWNLOAD
(pdf format):
Part One Part Two Part Three Part Four Part Five



THE COMPLETE STORY: RFE/RL's complete coverage of events in Iraq and that country's ongoing transition.