Among the amendments is a proposal to ban, or put a heavy fine on, retransmission of foreign-broadcast programs.
The two draft amendments sent to the parliament late on June 26 were swiftly condemned by local media rights groups and top opposition leaders.
David Sandukhchian, a lawyer at Internews Armenia, an NGO that supports independent media, said, "I believe that both bills are directed against Radio Liberty. Their purpose is to at least complicate its work."
On June 27, leaders of the parliament's pro-government majority praised RFE/RL's activities in Armenia but would not specify if they will urge fellow lawmakers to reject the government initiative.
The opposition minority in the parliament was quick to condemn the amendments. Leader of the Zharangutiun (Heritage) party Raffi Hovannisian said that he fears that the move is a prelude to ending RFE/RL broadcasts in Armenia.
Zharangutiun deputy Armen Martirosian asked what the government would do next.
"We shut down the [independent TV station] A1+ for [the presidential election of] 2003. In 2007, we will shut down Radio Liberty for [the presidential election of] 2008. What will we do for [the next election due in] 2013? Who will we shut down? Will we shut down people?" Martirosian said.
Proposed Rebroadcast Ban
One of the proposed legal amendments would ban Armenian Public Television and Radio (HHHR) from retransmitting programs of foreign broadcasters.
RFE/RL's Armenian Service primarily relies on the HHHR's radio frequencies to air its daily news programs across Armenia.
Under the other amendment, private radio stations, which air programs from foreign broadcasters, would have to pay hefty fees to the state.
Government officials have yet to explain the rationale for the proposed changes.
RFE/RL is a private, international communications service to Eastern and Southeastern Europe, Russia, the Caucasus, Central Asia, the Middle East, and Southwestern Asia, funded by the U.S. Congress.
After the collapse of communism in the Soviet Union, RFE/RL began legally operating in Armenia and made retransmission agreements with local broadcasters.
RFE/RL's Armenian Service was taken off the air in 1994 by then President Levon Ter-Petrosian. After that, RFE/RL broadcast to Armenian on short-wave frequencies.
But his successor, President Robert Kocharian, resumed the retransmission of RFE/RL programs by state radio shortly after he came to power in 1998.
However, in recent years, Kocharian has repeatedly expressed his displeasure with RFE/RL's coverage of elections and other political developments in Armenia, which he says casts his administration in a negative light.
Prime Minister Serzh Sarkisian, who is tipped as Kocharian's successor in next year's presidential election, has likewise criticized RFE/RL's news reporting and, in particular, coverage of May parliamentary elections.
The Erosion Of CIS Press Freedom
The Erosion Of CIS Press Freedom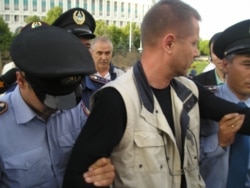 Prominent Kazakh journalist Sergei Duvanov being arrested in Almaty last month (RFE/RL)
FROM BAD TO WORSE. RFE/RL and Freedom House experts held a panel discussion at which they analyzed the erosion of press freedom in many CIS countries. According to Freedom House rankings, in 1994, six of the 12 CIS countries were rated "partly free"; by 2004, 11 of the 12 were rated "not free."
LISTEN
Listen to the entire briefing (about 70 minutes):

Real Audio
Windows Media
SUBSCRIBE
For regular news and analysis on media issues throughout RFE/RL's broadcast area by e-mail,
subscribe to "RFE/RL Media Matters."