Del Ponte Says To Stay On Longer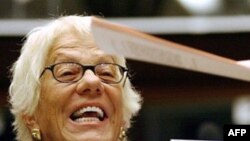 Carla Del Ponte was due to step down in September (AFP) June 28, 2007 -- The chief prosecutor of the UN tribunal for the former Yugoslavia, Carla Del Ponte, says she will stay on till the end of December, three months after her mandate officially ends.
Del Ponte said UN Secretary General Ban Ki-moon asked her to stay on.
"My mandate ends at the end of September, but the secretary-general has asked me to stay until the end of the year, or three months more," she told reporters during a visit to the Council of Europe in Strasbourg, France. "Of course I can accept that."
Del Ponte was named chief prosecutor of the International Criminal Tribunal for the former Yugoslavia in The Hague in August 1999.
She is responsible for prosecuting suspected war criminals from conflicts including the war in Bosnia and the Serbian crackdown on ethnic Albanians in Kosovo.
(AFP, Reuters, AP)

SUBSCRIBE
For a regular review of politics, media, and RFE/RL broadcasts in the western Balkans,
subscribe to "RFE/RL Balkan Report."