It's hoped the sea air and informal atmosphere will rekindle warm ties between the two leaders. It's not clear, however, if that will translate into resolution of the issues that divide Moscow and Washington.
Hopes are high the two-day summit will help Bush and Putin put their countries' differences aside.
But experts attending a June 28 briefing in Washington said some expectations, by contrast, are low.
No Deliverables
Rose Gottemoeller, the director of the Carnegie Moscow Center and a former deputy undersecretary for defense nuclear proliferation in the U.S. Department of Energy, said, "What I'm hearing from the White House is that this is going to be another summit that does not emphasize deliverables."
Gottemoeller says the low expectations are due in large part to the icy rhetoric heard from Putin through much of this year -- particularly at the Munich security policy conference in February, when the Russian president lashed out the United States for "overstepped its boundaries" in creating a "unipolar" world.
That tone has only added to tensions between the two countries over issues like U.S. plans to build parts of a missile-defense shield in Central Europe and disagreements over obligations to documents like the Conventional Forces in Europe treaty.
"I suspect that it will be largely a PR enterprise. I would be very happy if I'm mistaken and it produces something of substance."
But, she added, Russia may be softening its stance. In a recent speech at the Moscow Carnegie Center, Foreign Minister Sergei Lavrov surprised Gottemoeller by stating the summit was meant to remove "the risk of alienation between the two countries."
If Moscow is set to get ties with Washington "on a more positive trajectory," Gottemoeller said, the summit might actually bear fruit.
"My hunch, and it's no more than a hunch -- I have no firm evidence of it -- is that maybe, just maybe, we could see a summit surprise," Gottemoeller said.
"There have been some slight hints out of Moscow that, for example, there could be some proposals to move forward the impasse on the CFE treaty, or there could even be a proposal to pursue additional further reductions in strategic nuclear forces, after START [Strategic Arms Reduction Treaty]."
'1-2-3 Agreement'
On the U.S. side, Gottemoeller said, she expects to the emphasis to be on issues like the so-called "1-2-3 agreement" on the peaceful production of nuclear energy, an antidumping uranium suspension agreement, and Russia's bid to join the World Trade Organization.
A more skeptical outlook for the summit came from Aleksei Arbatov, a member of the Russian Academy of Sciences and the co-chair of the nonproliferation program at the Carnegie Moscow Center.
"I suspect that it will be largely a PR enterprise. I would be very happy if I'm mistaken and it produces something of substance. I hope so, but it's hard to count on that," Arbatov said.
A key issue, Arbatov said, will be Bush's response to Putin's proposal, made at the G8 summit in early June, for the United States to use the Qabala (Gabala) radar station in Azerbaijan as part of its missile-defense strategy.
Washington says its missile-defense plans in Central Europe are aimed against "rogue" states like Iran and North Korea. But Putin has argued the bases in Poland and the Czech Republic are directed against Russia, and is angry that Washington failed to consult Moscow on its plans.
Bush, Arbatov said, should be careful in Kennebunkport to take Putin's concerns seriously.
"If, at Kennebunkport, President Bush will try to persuade President Putin that American missile defenses in Europe are not against Russia -- that would be a futile exercise. Absolutely futile. Because Russia has already taken its position, which is shared by the vast majority of Russian experts," Arbatov said.
Azerbaijani Radar
Arbatov added that Putin's Azerbaijan proposal was an unpopular move in Russia.
Many members of the country's strategic community argued that Russia should drop all missile-defense negotiations with the United States and concentrate on countermeasures like withdrawing from the INF treaty eliminating intermediate- and short-range missiles in Europe.
Arbatov said many people were shocked when Putin resisted such arguments and proposed the cooperation in Qabala instead.
"Against this pressure, quite surprisingly, Putin put forward proposal that was advocated by a small minority of liberal, pro-Western experts in Russia. And I think that it would be another -- and maybe final, in the short term - mistake of U.S. policy toward Russia to brush it aside and not to take it as a very, very serious proposal," Arbatov said.
A third Carnegie expert, former Russian military officer Dmitry Trenin, added a final thought. For many in Russia, Kennebunkport is seen as a test for the United States.
If Bush rejects the Qabala radar proposal, he said, it will be "almost conclusive proof that the missile system in Europe is actually aimed against Russia."
Russia And The West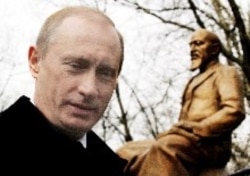 (epa)
COOPERATION, CONFLICT, CONFRONTATION: Relations between Russia and the West are notoriously volatile. "To see the kind of relationship that presidents Bush and Putin have developed and to see Russia firmly anchored in the West, that's really a dream of 300 years, not just of the post-Cold War era," then-national security adviser Condoleezza Rice said in May 2002.
But observers have increasingly called into question the extent of the shared values between Russia and the West, particularly on issues relating to the transformations going on in other former Soviet countries.
RELATED ARTICLES
Silent Diplomacy Versus Public Criticism
Analysts Say New Arms Race Unlikely
Moscow 'Unhappy' With Outcome Of CFE Conference
Moscow And Washington Spar Over WTO Membership
Russia Gears Up To Improve Its Image Abroad
Experts Urge U.S. To Rethink Relations With Russia
U.S. Official Says Russian NGO Law Part Of Antidemocratic Trend
ARCHIVE
To view an archive of RFE/RL's coverage of Russia, click here; to view an archive of RFE/RL's coverage of U.S.-Russian relations, click here.

SUBSCRIBE
For news and analysis on Russia by e-mail, subscribe to "RFE/RL Russia Report."