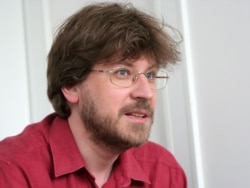 Fyodor Lukyanov (RFE/RL file photo)


'A SYMBOLIC RITUAL.' RFE/RL's Russian Service asked FYODOR LUKYANOV, the influential editor of "Russia In Global Affairs," to comment on the July 1-2 summit. Below are excerpts from that interview.
There is no reason to expect a radical turnabout because a radical turnabout in U.S.-Russian relations requires a profound rethinking of those relations and the emergence of some sort of strategic course. The problem is not in the personal relations between the two presidents or in the sum total of various factors of conflict. It is in the fact that since the Cold War no working models of interrelations have emerged. The relations that arose in the 1990s, for various reasons, didn't work. What we are seeing now are the consequences of the crisis of the 1990s model.
Serious work is required in order to develop solid, stable relations. And neither side is currently in a position to do this serious work with a long-term perspective.
[Bush] needs to save his foreign policy from total collapse. He has absolutely nothing to boast of. And if we add to the Iraq drama the final turn of relations with Russia into confrontation, then that will definitely complicate still more the position of the Republican Party and turn Bush into a foreign-policy monster. So, it seems to me, that he has a very short-term problem -- preventing a final collapse, preserving until Putin leaves the feeling that, "yes, we have many problems, but we are still partners; we are in dialogue, etc., etc."
This summit is, definitely, a symbolic ritual, all the more because it is taking place in a symbolic venue. This is the place where the father of the current president conducted serious negotiations concerning the end of the Cold War. Inviting Putin here, of course, is particularly symbolic. Both sides need to demonstrate that a process is going on. "Yes, we have complicated relations, but we are continuing to look for answers." And this is the state that should be maintained until the terms of both presidents come to an end.
ARCHIVE
To view an archive of RFE/RL's coverage of Russia,
click here
; to view an archive of RFE/RL's coverage of U.S.-Russian relations,
click here
.