Senior political figures in Russia and in the unrecognized republics of Abkhazia and South Ossetia have expressed concern in recent days that the escalation of tensions in the South Ossetian conflict zone herald a new attempt by Georgia to restore what they consider its hegemony over that unrecognized republic by force of arms.
There is also speculation, however, that Georgian artillery attacks on the South Ossetian capital, Tskhinvali, could equally be intended to deflect attention from a planned incursion into Abkhazia, possibly as the world focuses on the informal talks in Kennebunkport between U.S. President George W. Bush and his Russian counterpart, Vladimir Putin.
Georgia has sought on two previous occasions to coopt irregular forces to launch a new incursion into Abkhazia to bring that breakaway republic back under its control.
As recently as June 26, Dmitry Sanakoyev, whom Georgian President Mikheil Saakashvili named in May to head a pro-Tbilisi provisional administration in South Ossetia that is clearly intended to take control of the region following the collapse of the current pro-Moscow leadership headed by de facto President Eduard Kokoity, assured members of the European Parliament in Brussels of his commitment to direct dialogue with the people of South Ossetia to a peaceful solution to the conflict that erupted in 1990.
Violence Breaks Out
But within days, three separate mortar attacks were launched on Tskhinvali on June 29 and 30, reportedly killing one young man and injuring a second man and a woman. Moscow and Tskhinvali have blamed Tbilisi for the attacks, although Georgian officials have denied any responsibility. That denial raises the possibility that renegade elements within the Georgian armed forces were acting on their own initiative, as was apparently the case in August 2004, when Georgian Interior Ministry troops launched a disastrous attack on South Ossetian villages in which up to a dozen Georgians were killed.
Kokoity on June 29 held talks in Moscow with Russian Foreign Minister Sergei Lavrov, who impressed on him the need for the "maximum restraint." The following day, Kokoity told fellow Ossetians in Vladikavkaz, the capital of neighboring North Ossetia, that "no matter how difficult it is for us, we shall not allow the dummy government in Tbilisi to draw us into an armed conflict."
On June 29, UN Secretary-General Ban Ki-moon made an unannounced visit to Tbilisi, where he met with President Saakashvili and parliament speaker Nino Burjanadze. No details of their talks were divulged, but senior diplomats from the so-called Friends of the UN Secretary-General group of countries (France, Germany, Russia, the United Kingdom, and the United States) met in Bonn on June 27-28 with senior Abkhaz and Georgian officials to discuss, among other issues, the security situation in the Kodori Gorge, which straddles the territory of the unrecognized republic of Abkhazia and Georgia proper. Tbilisi deployed Interior Ministry troops in July 2006 to the upper, Georgian-controlled part of the gorge, but is now in the process of withdrawing them and coopting local personnel to serve as their replacement, according to a detailed summary of the Bonn talks posted on June 29 on kavkaz-uzel.ru.
Unidentified Armed Men
According to the summary, the diplomats expressed concern in Bonn at reports that unidentified armed men have been spotted in the lower, Abkhaz-controlled sector of the Kodori Gorge, and they called on both the Georgian and Abkhaz delegations to the talks to investigate and clarify those reports. The Georgian delegation reportedly denied that any Georgian security personnel have ventured on to territory controlled by the Abkhaz side.
Georgia has sought on two previous occasions to coopt irregular forces to launch a new incursion into Abkhazia to bring that breakaway republic back under its control. The first attempt, in May 1998, by two Georgian guerrilla formations, the so-called White Legion and Forest Brothers, was launched across the Inguri River that marks the border between Abkhazia and the rest of Georgia, and failed spectacularly.
In the second, in early October 2001, senior Georgian officials whose identity has never been established coopted Chechen resistance fighters loyal to field commander Ruslan Gelayev and transported them across Georgia to the Kodori Gorge, whence they sought to penetrate Abkhaz territory. They were, however, beaten back by the Abkhaz armed forces (see also "Particpants Disclose Details Of Gelaev Abkhaz Incursion"). More than 100 people were reported killed in the 1998 offensive and some 40 -- including five UN observers -- in 2001. Any armed force that did succeed in advancing to the lower reaches of the Kodori Gorge would be strategically placed to launch an attack on the Abkhaz capital, Sukhum(i).
Warning Note?
Could UN Secretary-General Ban's lightning stopover in Tbilisi have been connected with the reported presence of unidentified fighters in Abkhazia? If so, Ban might have delivered a warning to President Saakashvili that any new military aggression in Abkhazia would not only incur condemnation from the international community, but risk undercutting Georgia's position at the ongoing UN-mediated peace talks.
But Saakashvili, who has on numerous occasions referred to the Abkhaz and Ossetians as "brothers" and "allies" whom he professes to love, must be acutely aware that he has a maximum of 15-16 months to make good on his repeated pledges to restore Georgia's territorial integrity before his first presidential term expires. Should he try and fail, he will be perceived as a lame duck, and strengthen the man observers identify as his likely main challenger in the 2008 presidential ballot, Irakli Okruashvili, a decided hawk who has served as both defense and interior minister. It was Okruashvili who, as interior minister, commanded the abortive attack on South Ossetia three summers ago. Okruashvili is currently said to be preparing to launch his own political party, to which some parliament deputies from Saakashvili's United National Movement are reportedly ready to defect.
Georgia's Road To The West
Georgia's Road To The West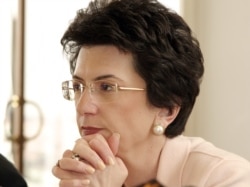 Georgian parliament speaker Nino Burjanadze giving a presentation at RFE/RL's Prague broadcasting center (RFE/RL)
BETWEEN RUSSIA AND THE WEST: Georgian parliament speaker Nino Burjanadze told an RFE/RL briefing that her country is under intense pressure from Russia.
LISTEN
Listen to the entire briefing (about 55 minutes):

Real Audio
Windows Media
RELATED ARTICLES
Georgian Speaker Reflects On Regional Relations
Is Putin's CFE Threat Aimed At The Caucasus?
EU Envoy Touts Georgian Confidence-Building Measures
SUBSCRIBE
For weekly news and in-depth analysis on Armenia, Azerbaijan, Georgia, and Russia's North Caucasus by e-mail,
subscribe to "RFE/RL Caucasus Report."