The warning came in an audio recording posted on the Internet and attributed to Abu Umar al-Baghdadi, the leader of the Islamic State in Iraq, an alliance of Sunni groups led by Al-Qaeda in Iraq.
The voice in the recording said the group would give Iranian leaders two months to end all of its support for Iraq's Shi'ite-led government and to stop intervening in Iraq. Otherwise, it said, a "severe war" awaited.
The authenticity of the tape could not be verified.
(AP, AFP)
Iraqi Insurgent Media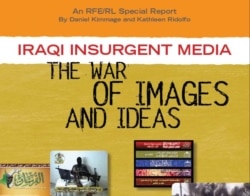 GETTING THE MESSAGE OUT. RFE/RL analysts Daniel Kimmage and Kathleen Ridolfo have produced a book-length study on the media efforts of the insurgency in Iraq and on how global jihadists are exploiting those efforts to spread their destructive message around the world....(more)
DOWNLOAD
(pdf format):
Part One Part Two Part Three Part Four Part Five



THE COMPLETE STORY: RFE/RL's complete coverage of events in Iraq and that country's ongoing transition.