The case is believed to be Central Asia's first legal challenge to a ban on Islamic dress.
Issuing his verdict today, the presiding judge said Davlatmoh Ismoilova's lawsuit has no legal basis.
Ismoilova responded to the decision with a vow to exhaust the legal channels to allow her to wear the hejab.
"I will continue -– I am going to appeal to the city court, and we will see what happens there," she said, according to RFE/RL's Tajik Service. "If that court [rules against me], then I will go to the country's higher court, too. I am not going to change my mind."
"I only want my freedom. I want to be free," Ismoilova said before the verdict was announced. "No one should tell me, 'Don't wear a head scarf,' or, 'Don't wear this or that.'"
The Education Ministry earlier this year reiterated a ban on the Islamic head scarf -- along with the miniskirt -- and hinted at stricter enforcement.
Education Minister Abdujabbor Rahmonov personally visited universities in April and demanded that young women choose between "hejab" and university education.
Ismoilova's lawsuit accuses her university, along with the ministry, of not allowing her to wear a head scarf to school and thus violating her rights.
"I only want my freedom; I want to be free," she said before the verdict was announced. "No one should tell me, 'Don't wear a head scarf,' or, 'Don't wear this or that.' I have to able to make my own choices."
Ismoilova said five female classmates at the State Institute of the Languages decided to remove their head scarves during lessons, but added that she will not acquiesce so quietly.
There has been no sign that officials are prepared to back down. In fact, Minister Rahmonov reiterated on July 11 that his ministry will not tolerate Islamic dress in state schools.
Tough Official Line
President Emomali Rahmon's government has taken a tough line on religious issues -- even closing down several mosques and preventing them from using loudspeakers to call people to prayer.
Public reaction to such measures has been mixed in this predominantly Muslim country. Some Tajiks have welcomed the hejab ban at schools, while others say they resent the official interference in people's private lives.
Education Minister Rahmonov has suggested in the past that Tajikistan has no hejab tradition. In April, he described girls who wear Islamic-style head scarves as "followers of Islamic movements who seek to promote their agenda in educational institutions."
He made a similar charge on July 11. "These types of clothing are foreign to us," Rahmonov said. "This is propaganda by other countries, and we will not allow it. If we're a sovereign country, we have to have our own model of dress."
Rahmonov said his ministry will soon introduce school uniforms, and he made it clear that students will be expelled if they refuse to comply.
Political Backdrop
Rahmonov chided leaders of the country's only Islamic political party -- the Islamic Renaissance Party (IRP) -- for its frequent public criticism of the ministry's stance on head scarves. He said it "would be better if party leaders came to the ministry with their suggestion about the school uniforms first."
IRP leaders have condemned the ban as a violation of freedom and rights.
Ismoilova has claimed that IRP leader and parliamentarian Muhiddin Kabiri has pledged to pay her legal fees connected to the current case.
"I have a defense lawyer," she said, "but Majlis member -- member of the lower house of the parliament -- the honorary Muhiddin Kabiri decided to pay all the expenses."
Kabiri told RFE/RL that he is not covering defense fees but rather his party's lawyer is providing the legal assistance free of charge.
Ismoilova has maintained that her legal challenge is entirely her own decision. In fact, she said, she has applied for membership of the ruling People's Democratic Party of President Emomali Rahmon.
Own Fervor
Ismoilova is one of 10 children of retired working-class parents who encouraged all their children to pursue university educations to avoid the "unskilled jobs and hard lives" of their parents.
Ismoilova says neither of her parents is a conservative Muslim and that they opposed their daughter taking the matter to court. She says they have encouraged her to abandon her hejab dispute and "not waste those three years she spent studying."
Ismoilova said she bought a religious brochure in a market a few years ago and learned about Islam, then decided to wear the hejab.
The court's decision comes amid heated public debate around the head-scarf issue.
In the meantime, no such public or media frenzy has accompanied the ban on miniskirts. Some female students continue to wear short skirts, and authorities have vowed to tackle that problem in time -- perhaps once the hejab problem is resolved.
But the debate over young Tajik women's choice to wear Islamic-style head scarves looks far from over.
(RFE/RL's Tajik Service contributed to this report.)
Islam And Politics In Central Asia
Islam And Politics In Central Asia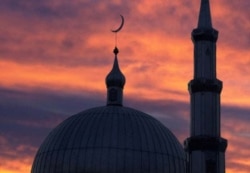 The Khodji Mashrab Mosque in Dushanbe (TASS file photo)
ACTIVISTS AND AUTOCRATS: Eric McGlinchey, assistant professor of government and politics at George Mason University, told an RFE/RL briefing that Islam-centered political movements present the most coherent challenge to autocratic governments in Central Asia.
LISTEN
Listen to the entire briefing (about 60 minutes):

Real Audio
Windows Media
RELATED ARTICLES
Central Asian Security Services Take On Religious Dissent
Family, Followers Reject 'Terrorist' Claims Against Slain Cleric
Hizb Ut-Tahrir's Calls For Islamic State Find Support
Imam Extends Welcome To Hizb Ut-Tahrir

A thematic webpage devoted to issues of religious tolerance in RFE/RL's broadcast region and around the globe.