The sum of reports in recent days gives the impression of a government exasperated by -- but intent on defending itself against -- malevolent verbal attacks from various quarters.
Culture Minister Mohammad Saffar-Herandi on July 8 accused unspecified newspapers and other media of mounting a "creeping" coup against the Ahmadinejad government.
His warning came amid reports that Iranian intelligence had caught a number of spies in western Iran, and with tensions high over at least four Iranian-Americans who are facing subversion and related charges.
Prominent Tehran-based journalist and press activist Mashallah Shamsolvaezin told Radio Farda on July 8 that governments habitually seek to blame someone "outside their own circle" for their failures, and the press in Iran seems the most accessible target.
The reformist daily "Aftab-i Yazd" observed on July 9 that there have been many more denunciations of critics by officials recently than expressions of sympathy with ordinary Iranians facing difficult economic conditions.
Blame The Messenger
Minister Saffar-Herandi's charge is not unprecedented -- officials have accused unspecified opponents of conspiracies, spying, or large-scale corruption before. It appears to be a response to public expressions of dissatisfaction by politicians and prominent public figures regarding the government's economic and public-administration performance since its inception in 2005.
The minister is furthermore not the only official to denounce perceived subversion or hostility. Fars News Agency reported on July 7 that presidential press aide, Mohammad Jafar Behdad, said Ahmadinejad's office would not sit quietly much longer as a "political and economic" gang spread "poison" and "black and unhealthy propaganda" against his government and pursued what it called "daily plots."
Prominent Tehran-based journalist and press activist Mashallah Shamsolvaezin told Radio Farda on July 8 that governments habitually seek to blame someone "outside their own circle" for their failures, and the press in Iran seems the most accessible target. Some observers might wonder where such overly critical -- never mind "subversive" -- press is, given the number of newspapers shut down by the judiciary during and since the reformist administration of then-President Mohammad Khatami in the late 1990s.
Most recently, the judiciary withdrew the publishing license for one reformist daily, "Mosharekat," that reflected the views of the reformist Participation Front and had been suspended for several years. It also suspended another daily, "Ham Mihan," that was run by a former Tehran mayor with ties to ex-President Ali Akbar Hashemi-Rafsanjani and had been banned once before.
Judiciary authorities have also blocked the website for the labor-affiliated news agency ILNA. The agency had faced unspecified pressures for its coverage of student and labor unrest in recent months, according to Radio Farda on July 8. An unnamed judiciary official was quoted as saying the agency had faced many complaints and the website was blocked to prevent "the repetition of offenses," ISNA reported on July 11.
Activist journalist Shamsolvaezin observed that the government could defend itself through various sympathetic media outlets. He said such outlets include IRNA news agency and "Iran" newspaper, which reflect the executive branch's views while reporting news, right-wing dailies like "Kayhan" and "Resalat," and state television and radio, a generally conservative state institution. Shamsolvaezin argued that there are no "independent" media, as government officials cite, but at best "semi-independent" media that are "themselves subject to suppression, threats, closure, or self-censorship." Shamsolvaezin said that the government cannot tolerate even these outlets, arguably underscoring its own ineffectiveness.
Right-wing journalist Abbas Salimi-Namin disputed Shamsolvaezin's view in remarks published in the daily "Etemad" on July 10. Salimi-Namin said he thinks the government is lashing out precisely because it "is very weak in terms of media backing and use of media instruments," adding that such "weakness may be the reason why [the government] takes such a harsh view of press criticisms."
Lawmakers Weigh In
Salimi-Namin said some reformist papers have been consistently "unfair" in their criticisms of the Ahmadinejad government and that their reporting suggests a refusal to recognize Iran's elected government. He cited examples of such hostility -- reformist dailies like "Ham Mihan" and "Sharq" publishing similar-looking headlines some days, hinting that "clearly the two work in coordination." Why, Salimi-Namin asked, have such dailies not given credit to the Ahmadinejad government's foreign-policy achievements, such as improved ties in Latin America, which he called "beneficial" for Iran?
Saffar-Herandi's remarks provoked reactions from legislators. Mohammad Ali Moqnian, a member of the parliamentary Social Affairs Committee, urged the media to stand together in the face of "the pressure of some groups," ISNA reported on July 9. He warned that "pressure and powerful groups" are threatening the press, which they regard as endangering their interests.
A member of the legislature's Culture Committee identified on July 9 by ISNA only as Soruri, said with some optimism that the government should "pave the way for a reduction of pressures on the media" in the run-up to parliamentary elections. The daily "Aftab-i Yazd" observed on July 9 that officials are so busy denouncing domestic enemies and previous administrations that they seemed to be overlooking topics it said were of greater concern to Iranians and Muslims. The paper said such matters include the recent reported mistreatment of Iranian pilgrims in Saudi Arabia and the knighthood bestowed on Salman Rushdie.
Salimi-Namin told "Etemad" that he thinks the ministerial accusation points to government exaggeration of the scope and significance of press criticisms. He said it is unacceptable for a culture minister to use such terms regarding the press, and advised the government to increase its tolerance threshold ahead of parliamentary polls, set for March, which he predicted would be lively.
Iran's present government has shown its fondness for bombastic and provocative remarks, for which it garners considerable attention. Its minister of culture is -- alongside Ahmadinejad and the government's chief spokesman, Gholahussein Elham -- one of its more outspoken members. His accusations might not herald any new round of press restrictions, however, if only because such restrictions seem to exist on an ongoing basis and began before the arrival of the Ahmadinejad administration. But they might represent both an effort to justify government hostility to domestic critics -- who are presented as assailants, not dissidents -- and be part of moves that reformists fear are intended to discredit their forces enough to assure their disqualification before parliamentary elections.
Under such circumstances, this recent verbal attack might be regarded as part of the government's own creeping coup against future electoral rivals.
The Structure Of Iran's Government
The Structure Of Iran's Government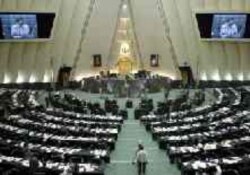 INSIDE THE ISLAMIC REPUBLIC: Iran is a theocratic Islamic republic governed under a 1979 constitution that was revised in 1989, when presidential powers were expanded and the prime minister's post was abolished.
Appointed -- not elected -- offices and bodies hold the real power in the government. The supreme leader, who serves as a chief of state would, is appointed for life by an Islamic religious advisory board that is called the Assembly of Experts. The supreme leader oversees the military as well as the judiciary and appoints members of the Guardians Council and the Expediency Council.
The Guardians Council -- some of whose members are appointed by the judiciary and approved by the parliament -- works closely with the government and must approve political candidates and legislation passed by the parliament. The Expediency Council is responsible for resolving legislative disputes that may arise between parliament and the Guardians Council over legislation.
The president, who is popularly elected for a four-year term, serves as the head of government. The legislative branch is made up of a 290-seat body called the Majlis, whose members are elected by popular vote for four-year terms...(more)
ARCHIVE
RFE/RL's
coverage of Iran
.