In a statement, the daily said 23-year-old Khalid Hassan was killed on his way to work in the south of the capital. It said the circumstances of the attack were unclear.
The shooting came a day after an Iraqi photographer and driver working for Reuters news agency were killed while filming a clash between U.S. forces and insurgents in Baghdad, in an incident the U.S. military said was under investigation.
The U.S. military said nine insurgents were also killed in the clashes.
Iraq is the world's most dangerous place for reporters. Media groups say at least 149 journalists and media assistants have been killed in the country while doing their jobs since the 2003 U.S.-led invasion, most of them Iraqis.
Meanwhile, Iraqi authorities imposed curfews on the cities of Al-Najaf and Al-Diwaniyah due to what they said were increased security threats.
(compiled from agency reports)
'Attacks On The Press -- 2006'
'Attacks On The Press -- 2006'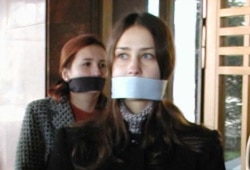 Ukrainian journalists demonstrating against censorship in December 2006 (RFE/RL)


'DOMINO EFFECT.' Two experts with the Committee to Protect Journalists told an RFE/RL-Radio Free Asia briefing on February 6 that their organization is concerned Russia's increasingly restrictive media environment is being copied by other countries in the CIS.
LISTEN
Listen to the entire briefing (about 80 minutes):

Real Audio
Windows Media
RELATED ARTICLES
New Program Finds Way Around Internet Censorship
CPJ Discusses Dangers, Obstacles Journalists Face
East: RSF Calls Iraq, Iran 'Graveyard Of Freedom'
Media Situation Worsening In Central Asia, Russia, Azerbaijan
SUBSCRIBE
For regular news and analysis on media issues throughout RFE/RL's broadcast area by e-mail,
subscribe to "RFE/RL Media Matters."