Of the five registered candidates, the clear favorite is Bako Sahakian, who resigned as National Security Service chairman to register for the ballot.

Sahakian is backed by Ghukasian's Democratic Artsakh Party (ZhAK); by the two opposition parties represented in the republican parliament; and by the current Armenian leadership, which implies that he is also considered acceptable by Moscow.

Unfair Support?
Sahakian's main challenger, Deputy Foreign Minister Masis Maylian, has accused the republican authorities of unfairly promoting Sahakian's candidacy to the detriment of his rivals, while a recent opinion poll indicated that 19 percent of respondents do not believe the upcoming ballot will be free and fair.

The five candidates participating in the ballot are Sahakian, who is 49 and made his career in the Soviet-era Committee for State Security (KGB); Maylian, who is in his late 30s and a graduate of the Vienna Diplomatic Academy; parliament deputy Armen Abgarian; Nagorno-Karabakh Communist Party leader Hrant Melkumian; and Vanya Avanesian, a professor at Artsakh State University.
Ghukasian is barred by the constitution from seeking a third consecutive presidential term. Ghukasian's ZhAK signaled its support for Sahakian's candidacy on April 20, the first day for nominating candidates. Azat Hayrenik (Free Fatherland), the junior partner in the ruling coalition, followed suit: some 450 delegates to a party congress on May 28 unanimously affirmed their support for Sahakian, regnum.ru reported.

Two opposition parties likewise backed Sahakian's candidacy, the Movement-88 and, somewhat surprisingly, the Karabakh chapter of the Armenian Revolutionary Federation-Dashnaktsutiun (HHD), which is aligned with the new Armenian coalition government.

Many observers had anticipated that the HHD would support Maylian, especially in light of a statement the party issued in April harshly criticizing the republican government's policies. Sahakian himself told RFE/RL's Armenian Service on June 20 that he is "proud" that both pro-government and opposition forces support him, and sees "nothing illogical" in that support.

There appear to be few fundamental differences between the various candidates' programs: all acknowledge the need to improve rural infrastructure, including roads, irrigation systems, and schools, and to reduce unemployment and raise living standards.

More Expected
Sahakian and Maylian both implied that they would expect greater commitment and honesty from government employees. Maylian called for "real reforms," and outlined a tough stance for negotiations on ending the conflict with Azerbaijan.

He argued, specifically, that "negotiations between the NKR and Azerbaijan on delimiting borders can begin only after the unconditional recognition of the sovereignty and state independence of the NKR," regnum.ru reported on July 2.

He has also advocated settling Armenian families on the districts of Azerbaijan currently occupied by Armenian forces, but it is not clear whether he unequivocally opposes the return of those territories to Azerbaijani control as part of a peace deal.

Maylian also said that Armenia and Nagorno-Karabakh should have a single shared system of national security, possibly implying a unified military command structure with Karabakh forces subordinate to the Armenian Defense Ministry in Yerevan.
President Kocharian's adviser has told journalists that the election campaign in Karabakh "is unique in the entire post-Soviet space," and he dismissed out of hand disparaging and unsavory rumors about Sahakian.
Before the election campaign formally got under way, Karabakh-based independent analyst David Karabekian noted that the five candidates represent a broader spectrum of political and social interests than was the case in previous elections, and he dismissed fears that the level of support expressed for Sahakian effectively rendered the outcome of the vote a foregone conclusion, regnum.ru reported on May 16.

And on July 10, Karabekian dismissed as "primitive logic" the supposition that the authorities in Armenia and Nagorno-Karabakh reached agreement that Sahakian should succeed Ghukasian as president, and that Maylian's role is little more than that of "sparring partner."

Just days after the formal start on June 20 of the election campaign, Maylian's campaign manager Sergei Kalantarian complained that an anchor on NKR state television was openly agitating in favor of Sahakian, regnum.ru reported on June 25.

A local government official in the northern Mardakert district was reportedly forced into early retirement on June 7 for openly saying he planned to vote for Maylian. And in Yerevan, Igor Muradian, a veteran participant in the 1988 campaign to persuade the Soviet leadership to transfer Karabakh from Azerbaijani to Armenian jurisdiction, alleged that outgoing President Ghukasian was orchestrating a pro-Sahakian campaign, pulling out all the stops to ensure he is elected.

Ghukasian for his part has characterized the election campaign as "close to ideal," regnum.ru reported on July 3, while Central Election Commission Chairman Sergei Nasibian described it as "proceeding normally."

In Yerevan, President Kocharian's adviser Garnik Isagulian told journalists on July 10 that the election campaign in Karabakh "is unique in the entire post-Soviet space," and he dismissed out of hand disparaging and unsavory rumors about Sahakian, regnum.ru reported.

Isagulian described Sahakian's candidacy as "acceptable for everyone," and predicted that 80 percent of the electorate will vote for him. By contrast, a survey of 700 people conducted by the Sociometer center showed that 45 percent would vote for Sahakian and 5 percent for Mayilian, Noyan Tapan reported on June 18; a second survey by the same pollster two weeks later showed support for the two men at 60 percent and maximum 10 percent, respectively.

Free And Fair
Addressing students in Yerevan on July 2, Ghukasian pledged to ensure that the July 19 vote is free and fair, stressing that his republic "always holds the best election in the post-Soviet space," even if the international community declines to recognize the vote as legal and valid, RFE/RL's Armenian Service reported.

Voters in Karabakh appear to think otherwise, however: according to a poll conducted in late June by the Independent Center for Humanitarian and Political Studies, 19 percent of the respondents said they do not believe the July 19 election will be free and fair, while a further 16 percent said they do not think their vote "will change anything."

Those perceptions are very probably based on the assumption that the preferences of the unrecognized republic's voters take second place to the strategic plans of the Armenian and Russian leaderships.
As in the case of earlier presidential and parliamentary elections in Nagorno-Karabakh, the Azerbaijani Foreign Ministry has denounced the planned vote as lacking legitimacy and "aimed at concealing Armenia's policy of annexation and...strengthening the ongoing occupation of Azerbaijani territory."
Nagorno-Karabakh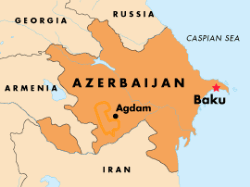 Click on the map to see an enlarged map of the Nagorno-Karabakh conflict area.
In February 1988, the local assembly in Stepanakert, the local capital of the Azerbaijani region of
NAGORNO-KARABAKH
, passed a resolution calling for unification of the predominantly ethnic-Armenian region with Armenia. There were reports of violence against local Azeris, followed by attacks against Armenians in the Azerbaijani city of Sumgait. In 1991-92, Azerbaijani forces occupied most of Nagorno-Karabakh, but the Armenians counterattacked and by 1993-94 had seized almost all of the region, as well as vast areas around it. About 600,000 Azeris were displaced and as many as 25,000 people were killed before a Russian-brokered cease-fire was imposed in May 1994.
For a complete archive of RFE/RL's coverage of the Nagorno-Karabakh conflict,click here.
Of particular interest:
2005 In Review: Conflicts In Caucasus Still Characterized By Gridlock
Nagorno-Karabakh President Expresses Optimism