Radio Farda is reporting today that the economists, who last month published a letter that was bluntly critical of the government, told the president on July 13 that his policies "lack any basis in science."
They added that his administration is "inexpertly" managing Iran's unprecedented oil wealth.
Iranian Economy Minister Davoud Danesh Jafari called the meeting "constructive."
Ahmadinejad was elected on a platform of helping the poor in the energy-rich country, but has faced repeated criticism for failing to halt rising inflation.
In other Iranian economic news, a Japanese media report says that Tehran, in an apparent attempt to reduce its U.S. dollar holdings, has asked Japanese refiners to pay for all their crude oil purchases in yen rather than the U.S. currency.
Radio Farda was unable to immediately confirm the report, which cited Japanese oil industry sources. It was carried today by Japan's Kyodo News agency.
It said Japanese refiners are considering the proposal, reportedly received on July 11 from the state-run National Iranian Oil Company.
Iran has already taken other measures to reduce its dependence on the U.S. currency. Earlier this year, Tehran announced it had begun pulling its foreign currency accounts out of European banks to protect its assets from possible sanctions.
(with material from AP)
The Iranian Economy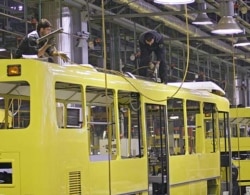 Buses being produced at a factory in Tehran (Fars)

IN NEED OF DIVERSIFICATION. Populist Iranian President Mahmud Ahmadinejad is having trouble fulfilling his promises to put the country's petrodollars on the plates of average citizens. Inflation and unemployment remain high and the economy is dominated by the energy sector.
RELATED ARTICLES
Foes Challenge President's Economic Rhetoric
Power Cuts In An Energy-Rich Land Spark Protests
Government Balks At Gasoline Rationing
Weak Economy Challenges Populist President
ARCHIVE
RFE/RL's
coverage of Iran
.
SUBSCRIBE
For weekly news and analysis on Iran by e-mail,
subscribe to "RFE/RL Iran Report."