Four Belarusians and one Russian citizen have been detained on charges of selling classified information about the air-defense systems of Belarus and Russia.
Minsk says that the spies were collecting information on Belarus and Russia's unified air-defense system.
Speaking on July 15 in Minsk, the deputy head of the Belarusian State Security Committee (KGB), Viktar Vyahera, said that the Belarusian secret services had broken up the spy ring.
"The crime of spying has been fully proven and I want to particularly underscore that the timely counterintelligence action has foiled an attempt to damage the defense capabilities of the Republic of Belarus and the Russian Federation," he said.
Vyahera said that no damage had been inflicted on the defense capacity of Belarus or Russia. He also said that all five men are former soldiers.
Poland Accused
One of the suspected spies, Vladimir Ruskin, a former Belarusian military officer, said that he had been recruited in Poland by Polish intelligence agencies.
According to Russian news agencies, the Russian suspect surrendered to Russia's Federal Security Service (FSB).
A criminal investigation into treason and espionage has been opened. In Belarus, treason carries a sentence of up to 15 years.
Poland has repeatedly criticized the authoritarian policies of Belarusian President Alyaksandr Lukashenka.
The Polish government funds the Belarusian-language Radio Racyja, which broadcasts on FM in Belarus.
Thinking Strategically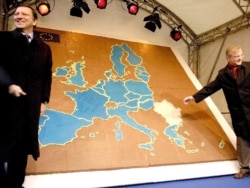 EU officials discussing enlargement at a meeting in December 2006 (epa)
OVER THE NEXT HURDLE: Bruce Jackson, president of the Project on Transitional Democracies, gave RFE/RL a wide-ranging presentation on issues related to European integration in the Balkans and Eastern Europe, as well as strengthening relations between the West and Central Asia.
LISTEN
Listen to the entire briefing (about 60 minutes):

Real Audio
Windows Media
RELATED ARTICLES
Kremlin Sees Its Foreign-Policy Star On Rise
Brussels Mulls Over Its Energy Sources
Experts Ponder Future 'Gas Wars'
The Fate Of The Multivector Model In Central Asia
SUBSCRIBE
For daily news updates from throughout RFE/RL's broadcast region by e-mail,
subscribe to "RFE/RL Newsline."