Uzbek Refugees Detained In Czech Republic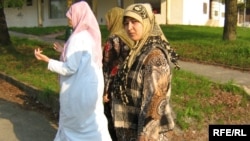 Uzbek refugees from Andijon at a refugee camp near Prague last year (RFE/RL) July 17, 2007 (RFE/RL) -- Authorities in the Czech Republic have held two Uzbek refugees in detention for nearly two weeks at the request of the government in Tashkent. They are among hundreds of Uzbeks who fled violence two years ago (May 2005) in the eastern city of Andijon, where rights groups and eyewitnesses accuse Uzbek security forces of firing indiscriminately on protesters.
Omanullo Maqsudov and Zohid Mirzaev were detained on an Interpol warrant while crossing the Czech-German border on July 3, and are currently being held in the western Czech city of Plzen.
Viktor Sup, a partner of their Czech lawyer, told RFE/RL's Uzbek Service today that authorities in Tashkent have 40 days to provide documents showing that the detainees committed a crime before a Czech court can rule on an Uzbek extradition request.
"We think it is a real scandal that Uzbeks who have proper refugee status in Germany are exposed to that kind of treatment [by Czech authorities]."
Sup argued that Maksudov and Mirzaev's lives would be at risk if they were handed over to Uzbekistan.
Refugee Status
"We think they cannot extradite them because they can die there," he said. "So why should they stay in jail? And the extradition probably will not happen."
Germany has granted both men refugee status. An independent Uzbek information website (uznews.net) quotes the German Foreign Ministry as saying it has sent a request to the Czech government to release the detainees as soon as possible.
Marianne Heuwagen, director of Human Rights Watch's (HRW) bureau in Berlin, reacted strongly to news of the detention.
Extradition Unlikely
"We think it is a real scandal that Uzbeks who have proper refugee status in Germany are exposed to that kind of treatment [by Czech authorities]," she said.
A German consulate in Prague told RFE/RL's Uzbek Service today that Czech authorities have "said already" that they won't extradite the two men.
The website uznews.net reports that the 25-year-old Maqsudov is a son-in-law of Akrom Yuldoshev, an alleged leader of the Akramiya religious group that Uzbek authorities blame for the unrest in Andijon in May 2005.
Following the Andijon violence, more than 400 Uzbeks sought official refuge outside the country.
In November 2001, leading Uzbek opposition leader Mohammad Solih, who'd been granted political asylum in Norway and was in the Czech Republic to attend a conference, spent time in a Prague jail based on an Uzbek extradition request before he was released by Czech authorities.
(RFE/RL's Uzbek Service contributed to this report.)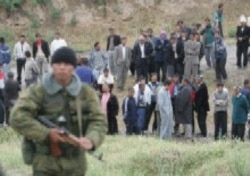 Uzbek refugees in Kyrgyzstan on May 19, 2005 (epa)


NO PLACE TO GO: More than 400 Uzbeks who fled in panic in the hours and days after troops opened fire on demonstrators in Andijon one year ago have been granted political asylum outside Central Asia. In limbo for weeks in Kyrgyzstan as they and the world tried to come to grips with the bloody events of May 12 and 13, they feared for their lives and the lives of family members as the official crackdown continued.... (more)
RELATED ARTICLES
Andijon Refugees In Romania Have Escaped Violence, But Not Heartache
Refugees In Romania Await Decision On Destination
Refugees Want To Return Only If Regime Changes


THE COMPLETE STORY: A dedicated webpage bringing together all of RFE/RL's coverage of the events in Andijon, Uzbekistan, in May 2005 and their continuing repercussions.
CHRONOLOGY
For an annotated timeline of the Andijon events and their repercussions, click here.