The ministers' vote sends an encouraging signal to Uzbekistan, which has been under pressure since security forces opened fire on demonstrators in May 2005.
The EU will drop four names from its original list of 12 senior officials banned from receiving travel visas to EU countries.
Speaking after the decision, EU External Relations Commissioner Benita Ferrero-Waldner said the decision represented a compromise within the EU.
"I think it's important to keep up the sanctions on the one hand but, on the other hand, show that we also appreciate the first results that we have been having for the first time in the human rights [dialogue], for instance," Ferrero-Waldner said.
EU member states were deadlocked as late as this morning over how to respond to recent attempts by Tashkent to restore ties.
The result is a compromise, calculated by Germany, the current holder of the EU's rotating presidency.
EU diplomats told RFE/RL that efforts by Berlin to ease the sanctions ran into stiff opposition from most other EU member states.
The success of a first-ever EU strategy for Central Asia -- a stated German priority slated to be adopted by the bloc's June summit -- is seen in Brussels as dependant on Uzbekistan's willingness to cooperate.
Visa Ban For Top Officials
The EU imposed limited sanctions on Tashkent in the wake of mass killings by Uzbek security forces in Andijon in May, 2005.
They include the visa ban on officials involved in Andijon, a freeze on technical contacts, and an arms embargo. Initially, the sanctions were said by the EU to be conditional on an independent international inquiry into the Andijon events.
Rights groups say hundreds of people were killed at Andijon, although the government says 187 people died and that Islamic militants instigated the violence.
Sweden and other northern EU countries headed opposition to German plans to ease sanctions.
Uzbek groups abroad marked the second anniversary of Andijon on May 12-13.
Technical contacts were resumed in late 2006. Uzbek and EU experts have twice met to discuss the Andijon events, without any tangible results, EU officials say. A human rights dialogue has also been launched, but it has been confined to a single, low-level annual meeting.
Germany reportedly pressed fellow members for a greater easing of sanctions.
The cut in the number of officials affected by the visa ban is seen as significant because Tashkent reportedly regarded the ban as particularly irksome.
EU officials were unable to immediately provide the names of the individuals scratched off that list. All are said to have been removed from the offices they held at the time of the crackdown in Andijon.
Germany also managed to insert a sentence into an EU declaration adopted today indicating the bloc wants to drop the sanctions eventually.
But resistance led by Sweden and Britain reportedly watered down that statement to say that the EU "stands ready to consider the lifting of restrictions" if the Uzbek government "engages constructively" in implementing international human rights obligations.
Critics of the entrenched Uzbek President Islam Karimov and his administration say they have no confidence in Tashkent's willingness to reform.
Anger At Uzbek President's Comments
Skeptics have also been angered by comments attributed to Karimov suggesting that many in the EU are coming to the conclusion that accusations against Uzbek officials over Andijon are unfounded.
Today's EU statement also says the bloc views with "great concern" the recent arrests of human rights defenders Umida Niyazova and Gulbahor Turaeva. Brussels notes that Niyazova has been freed, but the EU also calls on Uzbekistan to quickly honor a promise to allow the International Committee of the Red Cross access to its prisons.
German officials have repeatedly said the EU should assume a more active role in energy-rich Central Asia, where Russia and China are seen as strategic competitors.
Uzbekistan, as the region's most populous country, is key to German plans to develop a comprehensive EU strategy for the region.
Faces And Voices
WE WERE THERE:
RFE/RL correspondent Gulnoza Saidazimova visited a group Andijon refugees in the Czech town of Straz pod Ralskem and spoke to them about their recollections of the May 2005 violence and their lives since. (Photographs by G. Saidazimova)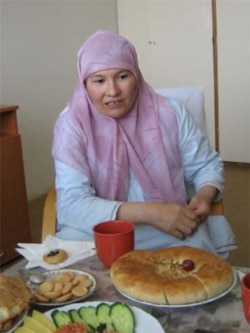 ZUHRA, aged 33: "On 13 May, I learned what APCs [armoured personnel carriers] and kalashnikovs were."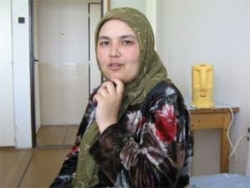 MOMINA, aged 29: "I called my parents twice from here. The second time they said: 'We are scared to talk to you. Our neighbor also received a phone call [from a relative who was granted asylum abroad]. Then the police came and beat him up.'"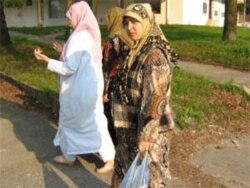 ODINA, aged 34: "I saw a woman with bullet wound in the back. From behind, we could see her hearting. It was beating. She was begging: 'Call the doctor. I don't want to die.' Later, in Kyrgyzstan, we heard she had died. "




THE COMPLETE STORY: A dedicated webpage bringing together all of RFE/RL's coverage of the events in Andijon, Uzbekistan, in May 2005 and their continuing repercussions.
CHRONOLOGY
For an annotated timeline of the Andijon events and their repercussions, click here.