One Killed, Several Injured, In Attack Against Russian Environmentalists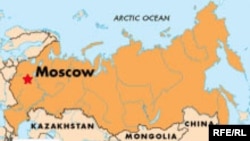 (RFE/RL) July 21, 2007 (RFE/RL) -- Reports from Russia say one environmental activist was killed and several others injured when their tent camp was attacked early this morning outside a power plant in Siberia.
The Autonomous Action group said in a statement posted on its website that attackers armed with baseball bats, knives, and air rifles stormed and set fire to their camp outside the Angarsk Electrolysis and Chemical Combine.
"One person...died in hospital" and "several other participants in the camp are in a serious condition," as a result of the 5 a.m. attack, the statement said.
Police have reportedly detained two suspects and have opened a criminal investigation.
The group, which describes itself as antifascist, had been protesting outside the plant since July 14.

Last year, the plant in Irkutsk Oblast was chosen as the site for a uranium-enrichment facility that Russia plans to make available to countries that wish to develop nuclear energy.

The plant is located about 100 kilometers from Lake Baikal, one of the world's largest sources of fresh water.

SUBSCRIBE For news and analysis on Russia by e-mail,
subscribe to "RFE/RL Russia Report."