Polish President To Visit Site Where 26 Pilgrims Killed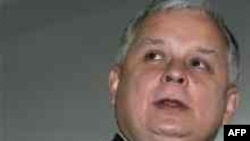 Lech Kaczynski (file photo) (AFP) July 22, 2007 -- Poland's President Lech Kaczynski will visit the site of a bus crash in the French Alps where 26 Polish pilgrims have died.
Officials say the coach was going down a steep road near Grenoble when it had problems with its brakes and fell into a mountain stream.
The coach was returning from the Roman Catholic shrine of Notre Dame de la Salette, some 40 kilometers south of Grenoble, where the Virgin Mary is believed to have appeared to two children in 1846.
(compiled from agency reports)