The 53-year-old Erdogan appears to have won a new mandate for his Islamic-rooted government.
A devout Muslim whose wife appears in public in the Islamic head scarf, Erdogan has led Turkey since March 2003.
Erdogan has promised to make no changes to the country's secular, pro-Western orientation and made membership in the European Union the primary objective of his foreign policy. Many Turks are proud of the country's institutionalized secularism, which arose when Mustafa Kemal Ataturk founded the modern Turkish state in 1923.
Erdogan read a poem at a political rally in 1998 that was deemed Islamist sedition by a court in a country that many officials have tried hard to portray as fully modern and secular.
From Humble Beginnings
Erdogan's family has Georgian roots that he announced during a visit to Georgia in 2004 -- his ancestors emigrated from Batumi on the Black Sea coast to Turkey's Rize.
The young Erdogan grew up in a tough working-class neighborhood of Istanbul. He played football for money and sold bread rolls to pay for school.
He was educated at the religious Imam Hatip school before attending classes in Marmara University's Faculty of Economics and Administrative Sciences.
Erdogan became attracted to the Islamic National Salvation Party in his youth. He ascended to that party's leadership, and became a mayor of Istanbul in 1994.
An Islamist Agenda?
Erdogan's Islamist sympathies earned him a criminal conviction in 1998. He read a poem at a political rally that was deemed Islamist sedition by a court in a country that many officials have tried hard to portray as fully modern and secular.
A teetotaller, Erdogan restricted alcohol consumption in restaurants during his stint as Istanbul's mayor. However, since coming to national power, his government has not imposed any bans on the use of alcohol.
But taxes on alcohol and tobacco have gradually increased, leading to reduced consumption.
In 2004, Erdogan became the first Turkish prime minister since 1988 to visit Greece, which had a long-running feud over the fate of Cyprus. Erdogan scored an important diplomatic victory when his Greek counterpart, Kostas Karamanlis, declared that Greece would support Turkey's bid for EU membership.
A talented public speaker and charismatic leader, Erdogan is Turkey's most popular politician. His government has been credited with restoring stability in a country plagued by decades of chaotic coalitions interrupted by military coups. The national economy has grown an average of 7 percent a year during his tenure.
Erdogan remains a controversial figure for his Islamic views and lifestyle.
He has said he prefers not to shake hands with women, but does so in his official capacity because -- in his words -- "refusing would upset and damage the dialogue." He says he prays and asks forgiveness after such handshakes.
His wife wears head scarves in the "hijab" fashion, the strict Islamic style that is banned in government buildings. Erdogan sent his daughter to study abroad so that she could openly wear a head scarf -- which is restricted in secular Turkey's schools.
Erdogan still faces serious challenges despite the apparent vote of confidence at the ballot box. Analysts generally regard the country as deeply divided over the role of religion, ethnic minorities, and an upcoming membership in the EU.
Islam In A Pluralistic World
Islam In A Pluralistic World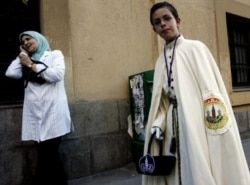 A Muslim woman (left) watches a Christian procession in Madrid in March (AFP)


READ
CONFERENCE ON ISLAM:
A major international conference on Islam concluded in Vienna in November 2005 with strong appeals from prominent Muslim leaders to recognize international terrorism as simply "terrorism." Political figures from Islamic countries, including the presidents of Iraq and Afghanistan, argued that it should never be labeled "Islamic" or "Muslim" terrorism because Islam is based on peace, dialogue, and tolerance. "Salaam" -- meaning "peace" -- was the key word of the three-day conference, titled "
ISLAM IN A PLURALISTIC WORLD
."
Iraqi President Jalal Talibani and Afghan President Hamid Karzai used the word in their remarks to emphasize the peaceful nature of Islam. Other speakers quoted passages from the Koran to the effect that all men and women, regardless of faith, are creatures of God and should live in peace with each other without discrimination
...(more)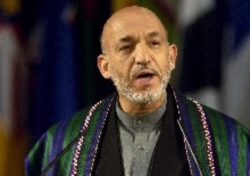 LISTEN
Listen to Afghan President
HAMID KARZAI
's complete address to the Vienna conference (in English):
Real Audio
Windows Media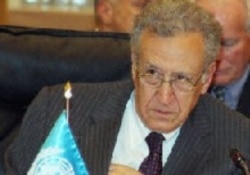 LISTEN
Listen to UN special envoy
LAKHDAR BRAHIMI
's complete address to the Vienna conference (in English):
Real Audio
Windows Media
THE COMPLETE PICTURE:
Click on the image to view a thematic webpage devoted to issues of religious tolerance in RFE/RL's broadcast region and around the globe.