In other developments, an Iraqi spokesman said 18 gunmen belonging to the Al-Qaeda in Iraq terrorist network were killed and 62 others detained in joint Iraqi-U.S. operations in Ba'qubah, north of Baghdad.
The spokesman did not say when the operation took place.
Meanwhile, the U.S. military announced today that a U.S. soldier was killed by a roadside bomb in Baghdad on July 21.
(AFP, dpa, Reuters)
Iraqi Insurgent Media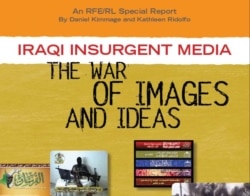 GETTING THE MESSAGE OUT. RFE/RL analysts Daniel Kimmage and Kathleen Ridolfo have produced a book-length study on the media efforts of the insurgency in Iraq and on how global jihadists are exploiting those efforts to spread their destructive message around the world....(more)
DOWNLOAD
(pdf format):
Part One Part Two Part Three Part Four Part Five



THE COMPLETE STORY: RFE/RL's complete coverage of events in Iraq and that country's ongoing transition.