Al-Maliki said he hoped both countries would support stability in an Iraq "that doesn't interfere in the affairs of others nor want anyone to meddle in its own affairs."
The two envoys -- Ryan Crocker and Hasan Kazemi-Qomi -- had a first round of talks in May, the highest-level meeting between the two countries since 1980.
There appears to have been little change in either country's public pronouncements since then, however, and many observers express little optimism this second round will make much progress, either.
That feeling may best be summed up by Mithal al-Alusi, a Sunni Muslim member of the Iraqi parliament.
"Well, really I believe that nothing will [come] out of this meeting," al-Alusi said in an interview with Radio Farda. "We haven't seen any kind of Iranian willing[ness] to stop supporting the terrorists and the militias, and the corruption in Iraq, but also in Lebanon, also in Syria, also in Hamas. So Iranian [policy] is very aggressive, not useful, and against the interests of many nations in the Middle East. So that's why I will be really wondering if something will [come] out of the meeting."
Playing For Time?
If today's meeting accomplishes nothing else, al-Alusi says, it will demonstrate Tehran is merely playing for time, perhaps as a way to advance its nuclear program.
Iran has in the past denied such accusations and said that it wants a stable Iraq. But Washington accuses Tehran of fomenting unrest in Iraq and says Iran needs to match its actions with words.
"[The meeting] is designed to see if Iran will change its behavior, and we can talk about issues related to Iraq," U.S. State Department spokesman Sean McCormack told reporters on July 23. "We think that this kind of engagement is important, that at the very least, we can have a direct message to the Iranians that if they truly do want a more stable, secure, prosperous Iraq, they're going to have to change their behavior."
Mehrdad Khonsari, a former Iranian diplomat, tells Radio Farda that success for either or both sides is mostly a matter of will.
"It is definitely a positive step," Khonsari says. "But for the talks to reach a result and lead to a solution, both sides should really want it."
Khonsari says perhaps each side sees the other's demands as unacceptable. He says the United States probably believes it can't persuade Iran to end its suspected involvement in Iraq, while Iran likely believes it can't persuade the United States and Britain to withdraw its troops quickly from Iraq.
A Success, Of Sorts
Houshang Amirahmadi takes a different view. Amirahmadi is a professor at Rutgers University in the United States and head of the nongovernmental American-Iranian Council.
He tells Radio Farda that the very fact the two sides are meeting again proves the first meeting was a success, of sorts.
"I evaluate positively the fact that both countries have agreed to face each other and talk to each other directly," Amirahmadi says. "It means that both sides had a positive assessment of the first round of talks, apart from the fact that they have continued to make accusations against each other."
"I evaluate positively the fact that both countries have agreed to face each other and talk to each other directly." -- Houshang Amirahmadi
Carah Ong, a policy analyst at the Center for Arms Control and Nonproliferation, a private think tank in Washington, believes the time lag between the two meetings may be working against the kind of momentum that the United States and Iraq need to begin building mutual trust.
Eight weeks is too long between meetings, she says, recommending instead interim sessions, perhaps involving lower-level diplomats, to maintain an improved relationship.
"I think the way the structure of meetings has been set up -- with eight-week intervals and a long time to set them up -- I think that at this point, no, they're not really set up for success," Ong says. "It seems that there [are] a lot of accusations going back and forth in the media in both countries. It seems like a far better approach would be for more sustained dialogue occurring more frequently, perhaps, in between some of these larger meetings."
There's been some speculation that the meeting might include topics other than Iraq -- such as Iran's nuclear program. But the administration of U.S. President George W. Bush has been emphatic that the talks will focus solely on how Iran can help stabilize Iraq.
But wouldn't a casual broadening of the subject matter breed familiarity and help generate friendly momentum?
Focused Agenda
Ordinarily, she says, she would prefer the broadest possible contacts between the two countries. But in this case, she concludes, a well-focused agenda is best.
"Because of the process itself, it's taken essentially eight weeks for the U.S. to really approve of this meeting, even though the Iranians had put forward the suggestion of having a follow-up meeting sooner after the May 28 meeting," Ong says. "I think it suggests that actually both sides have a harder line -- that they're going to stick to this subject [of Iraq security]. And I actually think, at this point, that they should focus on Iraq for the time being until there has been more ground work laid to better the relations between the two countries."
After all, Ong says, Iraq is now the most important topic for both Iran and the United States. If they can make even small progress on that topic, perhaps the stage will be set for progress in other areas, as well.
Those disputes include the international effort to curb Iran's nuclear program and U.S. suspicions that Tehran is turning a blind eye -- or worse -- to militants and weapons crossing Iran's border into Afghanistan.
Today's meeting also comes after Iran aired "televised confessions" on July 18-19 of two detained Iranian-Americans who are accused by Iranian officials of involvement in efforts to carry out a U.S.-backed "velvet revolution" in Iran.
The broadcasts were strongly condemned by human rights groups and the United States.
Iranian authorities also continue to hold two other Iranian-Americans, including Radio Farda broadcaster Parnaz Azima and Ali Shakeri, a founding board member of the Center for Citizen Peacebuilding at the University of California at Irvine.
FURTHER READING
Expert Discusses Iran's Quds Force

Mahan Abedin, director of research at the London-based Center for the Study of Terrorism, gives RFE/RL background on the Islamic Revolution Guards Corps and the Quds Force.

more

Is Iran Helping The Taliban?

The United States and NATO have charged that Iranian-produced weapons are reaching insurgents in Afghanistan.

more
U.S.-Iranian Talks In Baghdad
U.S.-Iranian Talks In Baghdad
Some perspectives on the U.S.-Iranian talks of May 28, 2007, as expressed to Radio Farda.
Mehrdad Khansari, a former Iranian diplomat and analyst who is based in London: "Today the talks with the U.S. have begun but that does not mean that the talks will have reached a result. The Iranian and U.S. governments need to [tell] their audiences that they are not abstaining from talking to each other."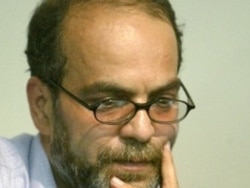 Tehran-based journalist Mashaollah Shamsolvaezin (pictured above): "There is a necessity that has forced the two countries to accept a series of new issues; these new issues are the talks that are going to begin between the two sides and I am hopeful about its future. The U.S. is facing serious [problems] regarding the situation in Iraq, from the other side is Iran facing some threats in the Middle East that come from insecurity in Iraq and also insecurity in Afghanistan. The seriousness of talks depend on the will of both sides and it seems that both sides are determined to seriously deal with issues, therefore I see a positive perspective for the Iran/U.S.talks."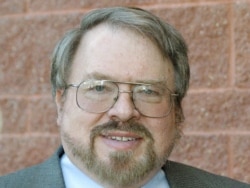 Ted Galen Carpenter, a U.S. foreign policy analyst at the Cato Institute in Washington (pictured above), says he believes the talks can help: "The United States is in a difficult position right now in that the current U.S policy in Iraq simply has not worked at all; and I think we are beginning to cast about for some alternatives and Iran can be at least modestly hopeful in that regard as long as we recognize that Iranian influence in Iraq is going to be inevitably much, much stronger than it was before."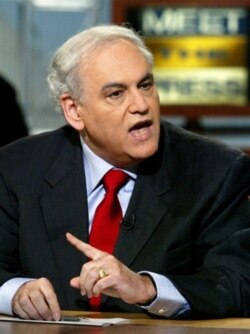 Richard Perle, a former Pentagon official (pictured above) who lobbied forcefully for a U.S. invasion of Iraq: "I don't believe [talking to Iran will] help because I don't believe there is any interest on the part of the mullahs in Tehran in changing the behavior of the government of Iran, which has been -- and I think will continue to be -- to encourage violence and disorder in Iraq."