The announcement by Ryan Crocker, the U.S. ambassador to Iraq, suggested a positive outcome to a meeting that began with accusations on both sides.
"One of the issues we discussed was the formation of a security subcommittee that would address, at an expert or technical level, some issues relating to security, be that support to violent militias, Al-Qaeda, or border security," Crocker said after nearly seven hours of talks with his Iranian counterpart, Hassan Kazemi Qomi.
"This discussion has to be measured in results, not in principles or promises and...thus far, the results on the ground are not encouraging," Crocker said.
As early as July 25, officials from all three countries will begin to work out how the subcommittee will be structured, according to Iraqi Foreign Minister Hoshyar Zebari.
Crocker said the United States won't let the subcommittee's work get bogged down in rhetoric, and that its success will be measured by whether sectarian violence in Iraq decreases. "I was as clear as I could be with the Iranians that this effort, this discussion, has to be measured in results, not in principles or promises and that, thus far, the results on the ground are not encouraging," he said.
'Iranian Involvement' In Iraq
The talks in Baghdad began with an appeal by Iraqi Prime Minister Nuri al-Maliki for the United States and Iran to set aside their differences and focus on a way to end nearly four-and-a-half years of bloodshed in his country.
Despite that plea, Crocker began the meeting by accusing Iran of arming and training Shi'a militias in Iraq. Crocker said that although Tehran has a stated policy of supporting a stable and democratic Iraq, Washington does not believe it is following that policy on the ground.
Crocker said that in the two months since the envoys' last talks, militant-related activity in Iraq attributed to Iran has increased, not decreased.
"We have laid out what is clear to us as evidence of Iranian support for some of these militia activities," Crocker said. "And again, for us, it is a very clear case. We have individuals in custody who have spoken of Iranian involvement. We have the evidence of weapons and ammunition captured on the ground."
Qomi responded with a denunciation of the presence of foreign forces in the country.
Qomi also said he complained to the U.S. envoy that the United States is still holding five Iranians in Iraq. Tehran says the captives are diplomats. Washington calls them elite Iranian soldiers who were in Iraq to arm and train militias.
Both Crocker and Qomi outlined the exchange after the meeting. An Iraqi witness to that discussion described it as "intense."
Qomi and Crocker met first in Baghdad eight weeks ago. It was the first high-level diplomatic engagement between the two countries in the nearly three decades since the Islamic revolution of 1979.
Little progress was noted at the first round of talks, and many observers expressed doubts that the second round would make much progress, either.
Iraq And Iran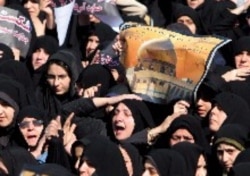 Iranian Shi'a protesting the Golden Mosque Bombing in Iraq on February 24


WHAT IS GOING ON? On March 8, RFE/RL's Washington office hosted a roundtable discussion on relations between Iraq and Iran. Although most analysts agree that Iran has been actively involved in Iraq since the U.S.-led military operation to oust former Iraqi President Saddam Hussein, they continue to debate the nature, extent, and intent of that involvement.
The RFE/RL briefing featured WAYNE WHITE, former deputy director of the U.S. State Department Bureau of Intelligence and Research's Office of Analysis for the Near East and South Asia, and A. WILLIAM SAMII, RFE/RL's regional analyst for Iran and editor of the "RFE/RL Iran Report."
LISTEN
Listen to the complete RFE/RL briefing (about 75 minutes):

Real Audio
Windows Media
RELATED ARTICLES
Iran/Iraq: Bilateral Ties Improving Despite U.S. Worries
Renewed Speculation About Tehran And Instability In Iraq
Iran/Iraq: Neighbors Mending Ties, But Outstanding Issues Remain
ARCHIVE
RFE/RL's
coverage of Iran
. RFE/RL's
coverage of Iraq
.