Terrorists need money. They need money to acquire weapons and carry out attacks, to proselytize and to train recruits, to pay for accommodation, and to travel.
Stopping The Flow
They cannot operate without financing, and they have devised many ways to get the money they need and move it around between countries and continents.
Many experts on international financial regulation at the conference have praised the decisive guidance governments and financial institutions have been getting from the United Nations.
Stopping the flow of money presents many obstacles.
Experts say most of the funds used by terrorists are legally acquired. Terrorist cells are hard to penetrate, there are fewer large donors these days and small donors are difficult to track.
This prompts the question of whether the international community is actually succeeding in fighting against terrorist financing. But the answer seems to be a qualified "yes."
Peter Romaniuk is an assistant professor at the John Jay College of Criminal Justice at the City University of New York. Romaniuk and others were the speakers at an international conference on fighting terrorism financing in London's Royal United Services Institute for Defence and Security Studies this week.
Progress Noted
The conference was held in association with the Home Office and the City of London.
"There have been significant achievements made, but there are significant challenges that still face the international community in their efforts to suppress terrorist financing," Romaniuk said. "The important question, I think, we need to be asking in the future is whether the costs of money laundering and terrorist financing regulation exceed the benefits."
Romaniuk explains that law-enforcement agencies are discovering that the financing of terrorism correlates with the social organization of terrorist groups. Today's more decentralized network-structured terrorism has different patterns of recruiting, of radicalization and of financing.
One area of concern is that in recent years, several fake Islamic charities were found to be channeling funds to terrorists. However, given the number of overall registered charities in Britain, the share is very small, says Andrew Hind, the chief executive of Britain's top regulatory body.
"We have 190,000 registered charities in England and Wales," he said. "At the moment across all of those 190,000 charities we have 120 cases in our compliance division, where we have serious concerns about things going wrong in charities. Forty of those are subject to a formal inquiry, where we can use our powers to freeze bank accounts and so on, and seven of those forty relate to allegations of terrorist links."
'Hawala' System
Hind explains that following the discoveries of irregularities, the Charity Commission in Britain is currently working on raising awareness that aid money or goods could be used to reach terrorists.
Some experts also initially suspected that terrorists could benefit from an informal money transfer system known in the Middle East and Asia as "hawala." This has been disproved, however, by a 2005 World Bank study of the system in Afghanistan, showing regulated NGOs using it to transfer in at least $400 million.
This is about one-fifth to one-tenth of the total aid and reconstruction money reaching the country, says Gibril Faal, a director of GK Partners and RemitAid in London. He stresses that only a very small part of this total could be terrorist money.
"A miniscule amount, if anything, and interestingly -- to cut that story short -- the Taliban is accepted as a terrorist group; the United Nations designated it as such," he said. "Remittances and hawala money to Afghanistan increased after the Taliban fell. And that is also in that [World Bank] story, so remittance money is not for terrorism. It is for reconstruction, welfare, and subsistence."
Many experts on international financial regulation at the conference have praised the decisive guidance governments and financial institutions have been getting from the United Nations in the form of mandatory resolutions. Richard Barrett is a coordinator of the Al-Qaeda and Taliban Monitoring Team at the UN in New York.
United Nations Help
"Yes, indeed the United Nations has been very active on the issue of terrorist financing, which is what this conference is about, since well before the attacks in 2001," he said. "Indeed, the Convention on the Financing of Terrorism was passed in December of 1999, and that was the result, of course, of a great deal of negotiation between member states."
Barrett explains that faster measures have been agreed by the Security Council, such as resolution 1373 after the terror attacks of September 11, 2001, to combat the flow of money to terrorists.
The UN has drawn up lists of suspicious companies, charities, and individuals to address the issue.
Barrett concludes that his positive assessment of the growing success in fighting terrorist financing stems from the fact that his department has been in action for a long time, since after the terrorist attacks in East Africa in 1998.
Iraqi Insurgent Media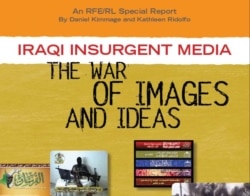 GETTING THE MESSAGE OUT. RFE/RL analysts Daniel Kimmage and Kathleen Ridolfo have produced a book-length study on the media efforts of the insurgency in Iraq and on how global jihadists are exploiting those efforts to spread their destructive message around the world....(more)
DOWNLOAD
(pdf format):
Part One Part Two Part Three Part Four Part Five



THE COMPLETE STORY: RFE/RL's complete coverage of events in Iraq and that country's ongoing transition.