In the Egyptian resort of Sharm el-Sheikh, Rice and Gates will meet the foreign ministers of Egypt, Jordan, and the six members of the Gulf Cooperation Council.
Rice and Gates, who are also due to visit Saudi Arabia, plan to urge Arab states to do more to help the United States over Iraq.
Speaking at an airport in Ireland en route to Egypt, Rice says a
proposed multibillion-dollar arms package for Saudi Arabia, Egypt, and
Israel will not destabilize the region.
She was responding to Iranian criticism that with the agreements, the United States was spreading fear in the region.
On July 30, Iranian Foreign Ministry spokesman Mohammad Ali Hosseini
said: "The Americans have always considered one policy in this region
and that is creating fear and concerns in the countries of the region
and trying to harm the good relation between these countries and making
an effort to create a chance to sell its arms and impose the export of
these arms to countries in the region."
The United States announced earlier the same day new military pacts worth $20 billion for Saudi Arabia, $13 billion for Egypt, and $30 billion for Israel in a reported bid to counter Iran's influence in the region.
(Reuters, AFP, AP)
Iran: Missiles And More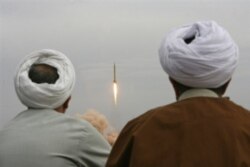 Iran tests its Shahab-3 medium-range missile in November 2006 (AFP)


HOW LONG A REACH? As the debate on missile defense sharpens, Tehran continues to develop its Shahab-3 missile, which is already capable of reaching some parts of Europe.... (more)
RELATED ARTICLES
Independent Nuclear Physicist Evaluates Iran's Nuclear Program
Iran Rocket Launch Another Show Of Prowess
How Close Is Iran To Getting Nuclear Bomb?
Iran's Super Weapons Claims Met With Skepticism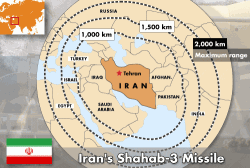 Click to enlarge the image.