Yet many believe that the economy has in the past two years revealed itself as the Iranian president's Achilles heel.
"Iran's economy is currently moving just on the edge of a collapse," Paris-based economics professor Fereydoon Khavand tells Radio Farda. "Ahmadinejad's decisions have led to economic chaos in the country. At present, nobody knows which direction Iran's economy is heading or what the country's economic goals are."
Since Ahmadinejad's inauguration on August 6, 2005, the Islamic establishment has taken a tougher line on a number of domestic and international issues, including Iran's nuclear program.
Affecting Lives
But for many low income Iranians, it is the worsening economic situation that has most affected their lives.
In contrast to the previous reformist administration -- which had made international relations and civil-society values a priority -- Ahmadinejad won major support from economic promises, with the best-known among them his vow to "bring the petroleum income on people's tables" accompanied by a campaign motto promising that "It's possible, and we can do it."
Yet critics say the pledge to battle poverty with which Ahmadinejad initially began his presidency has gone unfulfilled.
Economist Fereidun Khavand believes the reason for the "chaotic" economic situation is that the president "shifted the circle of economic decision-making from the Ministry of Finance and Economics, the Planning and Management Committee, and the Iranian Central Bank to the presidential administration solely."
Among the tensions that Ahmadinejad's government has encountered in the first half of its term, it has been economical dissatisfaction that has provoked major and widespread protests and challenged his policies.
Protests for workers' unpaid salaries, nationwide teacher protests over low wages, and eventually protests against gasoline rationing in the country resulting in burned-out gas stations -- these have emerged as the greatest symptoms of friction confronting President Ahmadinejad.
Occasional Eruptions
Within the general population, sharp price rises and a lower standard of living in Iran under Ahmadinejad's administration have made his policies unpopular. In recent months, a number of significant protests and strikes by workers and employees over low or unpaid wages have been reported in Iran.
Perhaps the most vivid example of unrest came in the form of well-attended protests and demonstrations organized by Iranian teachers in March and April 2007 to call for higher wages.
The protests were confronted by the government, and hundreds of teachers across the country were arrested and detained.
"How I, my wife, and my two kids are supposed to live on 220,000 tomans ($240) a month when rent for our apartment alone is 180,000 tomans ($200) a month?" one of the protesting teachers who was arrested and spent a day in detention asked. " Where is the oil money that the government was supposed to distribute equally?" another protesting teacher in Eslamshahr asked, according to ILNA.
In two years of Ahmadinejad leadership, what critics have described as a "mishandling of the economic administration" has led to a sharp rise in the inflation rate, resulting in an unprecedented increase in prices across the country.
While the government says the inflation rate is currently between 12 and 13 percent, sources like Iran's Parliament Research Center indicate that the number is up around 20 percent.
Nevertheless "even an inflation rate of 12 percent is still far above the inflation rates of all other countries in the region, with the exception of Palestine and Iraq," Khavand says.
Slippery Slope
Khavand attributes Iran's economic problems to Ahmadinejad's disruption of international relations with the outside world, which he says have led international investors to look elsewhere than Iran. "Today, Ahmadinejad only manages the country on a day-to-day basis with the help of oil revenues," Khavand tells Radio Farda.
An open letter signed by 57 economists from around the country and issued in June lambasted Ahmadinejad's economic policies and accused him of "ignoring the basic principles of economy." The university professors warned in the letter that "government mismanagement is inflicting a huge cost on the economy and underscore that high oil revenues over the last two years can only delay the imminent economic crisis."
That crisis was not long in coming. On June 26, angry Iranians attacked several gas stations to protest the government's suddenly imposition of long-threatened new limits fuel rationing. The Oil Ministry announced the start of the new rationing regime just three hours before it was due to begin at midnight, and the rush of the car owners seeking one last chance to fill up appeared to spark the violence.
According to the head of the Council of Gas Station Owners, Nasser Raisifar, at least five gas stations were totally destroyed in blazes set by angry motorists in Tehran. Many other gas stations were seriously damaged in the capital without being completely destroyed.
The new rationing plan allows the owners of private automobiles just 100 liters of heavily subsidized gas per month. Taxi drivers are allowed 800 liters a month at the subsidized price.
Gasoline is sold at a price of around 1,000 rials ($0.11) per liter in Iran, about one-fifth of its actual cost.
Iran is the second-largest exporter of crude oil among Organization of Petroleum Exporting Countries (OPEC). But its low refining capacity means it has had to import more than half of the gasoline it consumes. To keep prices low, the government subsidizes gasoline sales, saddling it with enormous costs.
Costly Mistakes?
Critics concede that escalating gasoline prices and tighter rationing were theoretically a necessary step for Iran, but they say the timing and mechanism for implementation were inexpertly handled.
"Was it a proper move? The answer is yes. But was it a moral move? Definitely no!" Parviz Mina, an energy expert tells Radio Farda. "In a period when the country suffers from a sick economy, when people cannot afford daily living, and when wages are delayed for months, economic morality surpasses theory -- especially for one of the top energy resources in the entire world."
The new rationing also sparked an overnight increase in already high prices for related and unrelated goods, from taxi fares to cigarettes to foodstuffs.
"The prices of meat, beans, rice, and fruit went up," Peyman Pakmehr a journalist based in Tabriz, told Radi Farda less than 24 hours after the new rationing kicked in. "When people ask shopkeepers why, they say it was because of the rise in gasoline prices."
According to official government reports, 12 percent of the population in Iran lives under the poverty line; some skeptics think the true figure is much higher.
Ahmadinejad has defended his economic policies and called on his critics to offer practical solutions. His government has accused the media of exaggerating economic problems.
The Iranian president has on his numerous provincial trips sought to associate with the masses of the lower economic classes, but some observers think that what they describe as Ahmadinejad's "economic failure " has led to a decrease in his popularity.
"We all welcomed him to town cheerfully and with open arms when Mr. Ahmadinejad came to Semnan," a Radio Farda listener said in a message left days after the launch of the new gasoline rationing. "That, he can be sure, would never happen again!"
(Radio Farda's Roozeh Bolhari contributed to this story)
Assessing Ahmadinejad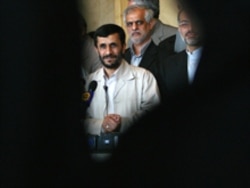 President Ahmadinejad in parliament (ISNA photo)


Mohammad Maleki, the first head of Tehran University following the Islamic revolution, says he doesn't believe the students' criticism of the government constitutes a revolution.
"What is going on right now is that because [the government] cannot tolerate the students' criticism, they try to prevent it by shutting down universities and by threatening professors and students," Maleki says. "What they are currently doing is in my opinion, and in the opinion of many professors, aimed at creating an atmosphere of fear and terror among professors and students to stop them from openly criticizing the government."
Ali Niku Nesbati, a member of the Office to Foster Unity, Iran's largest pro-reform student group, says that during Ahmadinejad's presidency, the disciplinary committee has issued warnings to 523 students for political activism. He adds that over the past year alone, more than 1,700 students have been "marked with stars" and subsequently encountered difficulties when applying for graduate degrees. (Ahmadinejad's government has reportedly adopted a "star rating" system for student activists and gives regime critics between one and three stars, depending on the perceived threat they pose.)
Nesbati says what is noteworthy is that "as the government is faced with more problems and is unable to resolve them, we are encountering more repression."

"As we have witnessed over the past few months, more pressures have been exerted on women, workers, and teachers," Nesbati says. "The same obviously applies to students."
(Nesbati was imprisoned on July 9, 2007. He made the above statements before his imprisonment.)
Culture
Abbas Marufi, an Iranian writer and publisher based in Berlin, says never in Iran's history has the book market faced tougher circumstances than today.
"The government has laid the foundations for the destruction of good and professional publishing in Iran," he says, adding that the government has created a situation that is exploited by "pseudo-publishers" -- as he describes them -- who are in the business solely to profit by publishing books for which they can get subsidies.
Marufi says that over the past two years, the Ministry of Culture and Islamic Guidance has even started to revoke publishing rights issued by previous governments.
Ebrahim Nabavi, a journalist and satirist, says the book-publishing sector today faces circumstances similar to those 10 years ago. According to Nabavi, it has become very difficult to get accreditation for new publications or to renew old licences.
But Sadegh Samii, director of publishing house Ketabsara, says many government critics are simply ignorant of the rules and regulations of publishing in Iran.
"We Iranians are in the habit of blaming others for our own failures," says Sadegh Samii, director of the publication "Ketabsara." "So if at any point in time, I'm unable to select a good book and find a qualified translator, I put the blame on the Ministry of Culture and Islamic Guidance. But this is unjustified."
Samii says over the past 27 or 28 years, the ministry's regulations have not changed at all. But he admits that the regulations have been applied more or less strictly during different periods.
Economics
Siamak Taheri, a newspaper journalist based in Iran, says Ahmadinejad was elected two years ago on the promise that he would bring social equality to the country. At the time, many Iranians were dissatisfied with their country's economic situation and had lost faith in the reformists' ability to improve it, so they pinned their hopes on Ahmadinejad.
"But the economic situation has worsened under Ahmadinejad and unemployment and corruption have increased." Taheri blames the situation on the makeup of the government.
Political
Shirin Ebadi, Iranian human rights lawyer and Nobel Peace Prize winner, says she has not seen the government "take any positive action in the fight against high prices and in the struggle for prosperity, which is an important human right." Ebadi says this has prompted workers and teachers to hold strikes, which unfortunately have led to arrests and interrogations.
Women
Nahid Kheirabi, a journalist and women activist based in Iran, says one of the "reactionary viewpoints of the 9th republic has been the renewed discourse on the legitimacy of temporary marriage," which according to Kheirabi constitutes "an insult and a threat to humanity, to both men and women." But Kheirabi says society's negative reaction to the concept of temporay marriage has forced Ahmadinejad's people to retreat on this issue.