Gazprom made the announcement today after Russian and Belarusian officials on July 31 again failed to reach an agreement on Minsk's $456 million gas debt.
The company said the cuts will not affect gas shipments to Europe.
Gazprom in January more than doubled the price it charges Belarus for natural-gas deliveries. Belarus has asked Gazprom to delay its gas payments, but the two sides have been unable to reach an agreement.
The European Commission today urged Russia and Belarus to swiftly resolve their dispute.
(Reuters, AP)

An OPEC For Natural Gas?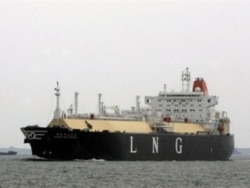 A tanker carries liquified natural gas to markets in Asia (AFP)

COMING TOGETHER? PFC energy analyst Nikos Tsafos and RFE/RL energy analyst Roman Kupchinsky discussed with an RFE/RL briefing what the likelihood is of a natural-gas-producers consortium being formed and what such an organization might look like.
LISTEN
Listen to the entire briefing (about 70 minutes):

Real Audio
Windows Media
RELATED ARTICLES
Vision Of Global Gas Cartel Gains Clarity
Putin To Take His Message To The Persian Gulf
Iranian Politicians Support Establishment Of Natural-Gas Cartel
'Gas OPEC' Moves Closer To Becoming Reality