Following the contested reelection of Belarusian President Alyaksandr Lukashenka in March 2006, U.S. President George W. Bush signed an order sanctioning about 40 Belarusian authorities blamed for repressive policies and violations connected to the election.
A statement issued on August 7 by the U.S. Embassy in Minsk said that since that order was issued, the Belarusian government has "continued to imprison and harass persons for speaking out in favor of democracy, holding peaceful demonstrations, and opposing the repressive policies of the regime."
The expanded list includes:

officials at or above the deputy-minister level or equivalent

any prosecutor-general or deputy prosecutor-general
Interior Ministry officers above the rank of lieutenant colonel
KGB officers above the rank of lieutenant colonel
ideology officers of the Minsk City Executive Committee and regional executive committees
the head and deputy heads of the presidential administration
members of the Central Election Commission
the chairs of the regional election commissions
the chief judges of Belarus's district and regional courts
the chairman of the Constitutional Court
the directors and deputy directors of state-owned companies
the spouses of any official or employee listed above.
Belarusian officials said the country will take "appropriate" measures in response to the travel ban.
"We have repeatedly said that such decisions are counterproductive and hopeless. This policy has played itself out. It is a thing of the past century," Foreign Ministry spokeswoman Maria Vanshyna said.

"The consistent restriction of contacts by the American government in the era of globalization is not and cannot be a measure conducive to the achievement of mutual understanding and the development of bilateral relations," she added.

Minsk, March 25
THE AUTHORITIES GET TOUGH: RFE/RL's Belarus Service filed these images from the police action against the March 25 demonstration in Minsk. Photographs by Maks Kapran.
LISTEN
Listen to the sounds of the demonstration:
Real Audio Windows Media
Real Audio Windows Media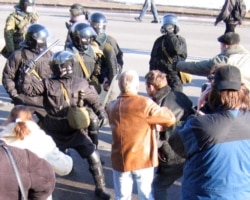 (RFE/RL)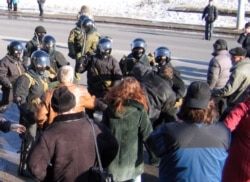 (RFE/RL)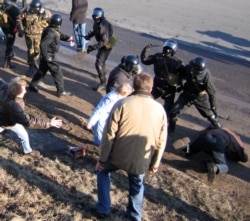 (RFE/RL)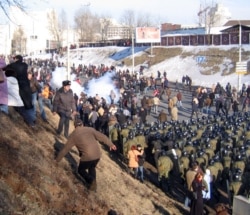 (RFE/RL)

THE COMPLETE PICTURE:
Click on the image to view a dedicated page with news, analysis, and background information about the Belarusian presidential ballot.


COVERAGE IN BELARUSIAN: Click on the image to view RFE/RL's coverage of the election campaign in Belarusian and to listen to RFE/RL's Belarusian Service.