Al-Maliki arrived in Tehran following a visit to Turkey. He is accompanied on his trip by several high-ranking officials, including Foreign Minister Hoshyar Zebari.
In a meeting with Iranian Vice President Parviz Davoodi, al-Maliki "asked Iran for real security cooperation," an al-Maliki aide said, speaking on condition of anonymity.
According to the Iranian state news agency IRNA, Davoodi told al-Maliki that "Iran has been always paying attention to providing and improving security in Iraq."
Davoodi also promised Tehran's "support for a strong and cohesive coalition" government in Iraq, as well as backing for al-Maliki personally, the al-Maliki aide said.
Regional Security Assistance
Al-Maliki's visit to Tehran comes at a time of increasing pressure on his government at home, and also amid U.S. accusations that Iran has stepped up its support for antigovernment militants in Iraq.
In Ankara on August 7, al-Maliki said after a meeting with Turkish Prime Minister Recep Tayyip Erdogan that the two countries agreed to join efforts to fight terrorists in Iraq.
"We reached an understanding with the Turkish side to work together to deal with the activities of terrorist organizations in all parts of Iraq, and among those organizations is the PKK [Kurdistan Workers Party]," al-Maliki said. "We agreed to unify our joint efforts to find a solution to abolish and eliminate the presence of the PKK and the fact of its existence on Iraqi territory."
Relations between Baghdad and Tehran have improved significantly since the fall of the Saddam Hussein's Sunni-dominated regime in Iraq, and especially since al-Maliki took office in May 2006.
However, al-Maliki's visit to Tehran comes at a time of increasing pressure on his government at home and also amid accusations by Washington that Iran has stepped up its support for antigovernment militants in Iraq.
Shi'ite Ties
Al-Maliki, a Shi'a, lived in Shi'a-majority Iran for several years in exile. RFE/RL analyst Kathleen Ridolfo says this is a factor that may play a role in the negotiations between the two countries.
"Al-Maliki is, of course, a Shi'ite leader and the Shi'ites have very close ties to Iran and so there are a lot of questions in the minds of some observers wondering whether or not this is aimed at colluding or in some way strengthening those ties between the [Iraqi] Shi'ites and the Iranian regime or whether the talks are more general," Ridolfo says.
The United States has criticized Iran's alleged support for Shi'ite militants in Iraq. Tehran has denied the accusations and repeatedly said that the presence of U.S. troops in Iraq is the reason for instability there.
Al-Maliki has been a strong supporter of talks between Iran and the United States in Baghdad that are aimed at halting the violence in his country. The two sides have already had three rounds of talks where they discussed security issues, including the creation of a committee aimed at bringing security and stability to Iraq.
Al-Maliki will likely seek assurances from the Iranian leadership to support security in his country and also to continue talks with Washington.
More Than Just Words?
However, Ridolfo notes that despite positive rhetoric, little has been done in the past on the political front between the two countries.
Al-Maliki himself said that this time he senses "seriousness and inclination from both sides." He was speaking to Iran's Arabic-language channel "Al-Alam" on August 7.
Al-Maliki's visit also comes on the 19th anniversary of the cease-fire agreement between Baghdad and Tehran that ended the bloody eight-year war (1980-88) between Iraq and Iran in which nearly a million people were killed.

U.S.-Iranian Talks In Baghdad
U.S.-Iranian Talks In Baghdad
Some perspectives on the U.S.-Iranian talks of May 28, 2007, as expressed to Radio Farda.
Mehrdad Khansari, a former Iranian diplomat and analyst who is based in London: "Today the talks with the U.S. have begun but that does not mean that the talks will have reached a result. The Iranian and U.S. governments need to [tell] their audiences that they are not abstaining from talking to each other."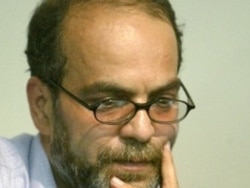 Tehran-based journalist Mashaollah Shamsolvaezin (pictured above): "There is a necessity that has forced the two countries to accept a series of new issues; these new issues are the talks that are going to begin between the two sides and I am hopeful about its future. The U.S. is facing serious [problems] regarding the situation in Iraq, from the other side is Iran facing some threats in the Middle East that come from insecurity in Iraq and also insecurity in Afghanistan. The seriousness of talks depend on the will of both sides and it seems that both sides are determined to seriously deal with issues, therefore I see a positive perspective for the Iran/U.S.talks."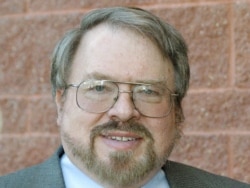 Ted Galen Carpenter, a U.S. foreign policy analyst at the Cato Institute in Washington (pictured above), says he believes the talks can help: "The United States is in a difficult position right now in that the current U.S policy in Iraq simply has not worked at all; and I think we are beginning to cast about for some alternatives and Iran can be at least modestly hopeful in that regard as long as we recognize that Iranian influence in Iraq is going to be inevitably much, much stronger than it was before."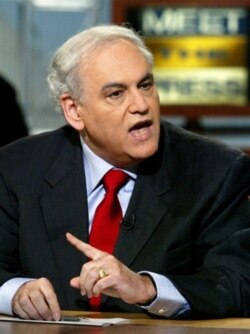 Richard Perle, a former Pentagon official (pictured above) who lobbied forcefully for a U.S. invasion of Iraq: "I don't believe [talking to Iran will] help because I don't believe there is any interest on the part of the mullahs in Tehran in changing the behavior of the government of Iran, which has been -- and I think will continue to be -- to encourage violence and disorder in Iraq."