The counterterrorism exercise will involve some 6,500 troops from the organization's member states.
The Shanghai Cooperation Organization (SCO) consists of Russia and China, as well as the Central Asian states of Kazakhstan, Kyrgyzstan, Tajikistan, and Uzbekistan.
The drill starts in China's Xinjiang Uyghur Autonomous Region and then moves on to Russia's Chelyabinsk Oblast, where it concludes on August 17.
Chinese President Hu Jintao will be a guest at the exercise in the Chelyabinsk region.
Hu is scheduled to visit Kyrgyzstan, Kazakhstan, and Russia from August 14 to 18. He will attend an SCO summit scheduled for August 16 in Kyrgyzstan's capital, Bishkek.
Shanghai Cooperation Organization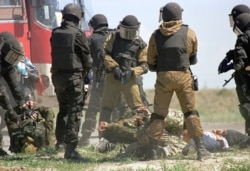 Soldiers conducting the first-ever SCO joint antiterrorism exercises, held in Kazakhstan in August 2003 (TASS)

NATO'S EVIL TWIN? At an August 3 briefing at RFE/RL's Washington,D.C., office, Central Asia experts Richard Weitz and Daniel Kimmage discussed the emergence of the Shanghai Cooperation Organization (SCO), a multilateral body that comprises Russia, China, Kazakhstan, Kyrgyzstan, Tajikistan, and Uzbekistan. In addition, Iran, Pakistan, Mongolia, and Afghanistan have observer status in the organization.
LISTEN
Listen to the entire briefing (about 75 minutes):

Real Audio
Windows Media
RELATED ARTICLES
U.S. Wary Of Shanghai Grouping
Unified Message Emerges From Shanghai Summit
Shanghai Cooperation Organization Mulls Expansion
China-Russia Bloc Challenges U.S. In Region


THE COMPLETE STORY: Click on the icon to view a dedicated webpage bringing together all of RFE/RL's coverage of Kazakhstan, Kyrgyzstan, Tajikistan, Turkmenistan, and Uzbekistan.