President Berdymukhammedov announced the pardons at a cabinet meeting.
"You have listed 11 people in your request," he told cabinet members. "I have some suggestions on this issue. As you know, we used to pardon convicts on the eve of [the Night of Forgiveness]. We pardoned at least 8,000 people, or 11,000-12,000 people at most. What do you think if we issue similar amnesties several times a year from now, on the eve of holidays?"
"This is a very positive development and many innocent people are imprisoned in Turkmenistan on purely political grounds, and we hope that the commission will not stop with this initiative."
Cleric Released
The most prominent of those released is cleric Nasrullah ibn Ibadullah, who served as the chief mufti of Turkmenistan from 1996-2003. Ibadullah -- like the other releasees who spoke on Turkmen state television after their release -- had ample praise for Berdymukhammedov.
"In the remaining part of my life I will work and serve [as much as I can] our people, our country, our homeland, and our President [Gurbanguly Berdymukhammedov]," he said.
Ibadullah is an ethnic Uzbek from Turkmenistan's Dashoghuz region, which borders Uzbekistan. He is thought to have been imprisoned for dissent, as he is reported to have objected to former President Saparmurat Niyazov's insistence on using passages from his book "Rukhnama" in mosques. He also angered Niyazov for his opposition to death sentences for people tried secretly for purported involvement in the alleged assassination attempt against Niyazov in 2002.
Accused Of Treason
Ibadullah, who is 60 years old, was sentenced to 22 years in jail in 2004 on treason charges, allegedly for involvement in the assassination attempt. Ibadullah expressed thanks to the new president for his release.
"People have lost their way and committed big sins and then repented -- I applaud the president who gave the chance for [the prisoners] to repent and to be accepted -- [I am] thankful to the president who accepted our repentance," he said.
Felix Corley is an editor for the Forum 18 news service, a Norway-based group that closely follows issues of religious freedom. Corley spoke to RFE/RL's Turkmen Service today about the prisoner release.
"This is very good news but it should not be forgotten that the [Turkmen] government for a long time refused to make public the charges against [Nasrullah Ibn Ibadullah], would not tell anyone the circumstances of why he was imprisoned in the first place, and many people believe he should never have been imprisoned, and this is impossible for outsiders to tell because the government refuses to make [the charges] public," he said.
Praising Human Rights Record?
Corley added that despite the good news of the release, he still questioned the reasons for their imprisonment. Corley views Ibadullah and some individuals' imprisonment as religious persecution.
"Even if people are then amnestied once they are imprisoned, it does not remove the problem that these sorts of people should never be imprisoned or charged in the first place," he said. "People should, in Turkmenistan, be free to practice their faith freely, meet freely for worship, build places of worship, publish religious literature."
Another prisoner, former Justice Minister Yusup Haitiv, was particularly effusive in his praise of the president. He also expressed appreciation for what he called the country's "protection of human rights," despite Turkmenistan being heavily criticized for its poor human-rights record by international rights groups.
"I am Yusup Haitiv," he began. "Today I was pardoned and freed by the decree of the esteemed president. He created special groups that monitor law enforcement agencies that are to protect human rights. We are thankful for the work of these groups, and we thank our president."
Many Still Imprisoned
Nine other prisoners were released. All had been sentenced between 2003 and 2004 -- most reportedly on charges related to the alleged assassination attempt. There was one woman among the prisoners, Olga Prokofeva.
Aaron Rhodes is the executive director of International Helsinki Federation (IHF) for Human Rights. He warned against assigning too much importance to the pardons.
"The IHF thinks that this is a very positive development, and many innocent people are imprisoned in Turkmenistan on purely political grounds, and we hope that the commission will not stop with this initiative and will also recommend that those who are imprisoned for nothing but political grounds can also be recommended for release," he said.
The prisoners who were released were being held in at least two separate prisons -- in the Caspian Sea town of Turkmenbashy and in the Ovadan Depe prison in Karakum.
(RFE/RL Turkmen Service Director Oguljamal Yazliyeva and correspondents Muhammad Tahir and Guvanch Guraev contributed to this report.)
Saparmurat Niyazov, 1940-2006
Saparmurat Niyazov, 1940-2006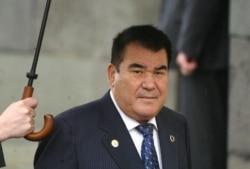 Turkment President Saparmurat Niyazov (bymedia.net)

ERA OF UNCERTAINTY. The death of Turkmen President Saparmurat Niyazov ends an era and begins a period of great uncertainty in Turkmenistan....(more)
RELATED ARTICLES
Could Niyazov's Death Lead To Political Struggle, Instability?
President's Death Brings Muted World Reaction
Energy Analyst Discusses Impact Of Niyazov's Death
Niyazov's Death Prompts Integration Hopes, Gas Worries In Russia
ARCHIVE
RFE/RL's coverage of
Turkmenistan
.