The Iran news network reported that the pipeline would carry oil from Iraqi oil fields to refineries in Iran.
It said the deal was signed in Tehran on August 10 by Iraqi Oil Minister Husayn al-Shahristani and his Iranian counterpart, Kazem Vaziri-Hamaneh.
It was unclear who would finance the project or when it would be constructed.
(AFP)
Sharing Iraq's Oil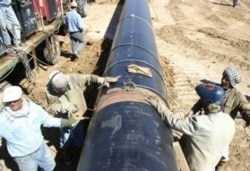 The pipeline from Kirkuk to Turkey is one of Iraq's main oil-export lifelines (epa file photo)

THE FUTURE OF THE ECONOMY. The uneven distribution of Iraq's oil resources has long been a source of tension among the country's ethnic and sectarian groups. Since the fall of Saddam Hussein, the tangled quest to find an equitable way to share oil revenues has been a major stumbling block on the road to national unity.
RELATED ARTICLES
Kurdish Oil Law Poses Problem For Baghdad
Ethnic Tensions Increasing In Oil-Rich City
Government Struggles To Revive Oil Infrastructure
Iraqi Oil Sector Faces Tough Times
Kurds Claim Their Right To Oil